Northark Drama and
the Ozark Arts Council present Rudyard Kipling's:
The Jungle Book
Thursday-Saturday, November 17–20, 7:00PM
Sunday, November 21, 2:00PM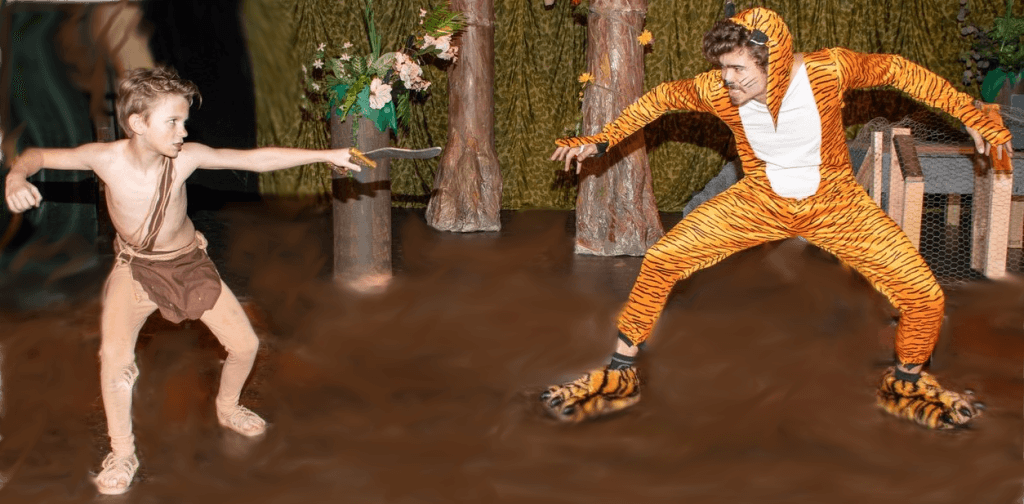 Northark Drama and The Ozark Arts Council, will present Vera Morris's beloved adaptation of Rudyard Kipling's The Jungle Book #LiveAtTheLyric Wednesday–Saturday, November 17–20, 2021 at 7:00pm and Sunday, November 21 at 2:00pm. Tickets are available through TheLyric.org with Advance Tickets priced at $8 children, $10 seniors, $12 adults. Ticket prices at the door will be $11 children, $13 seniors, $15 adults.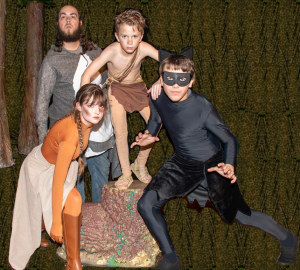 Come hear the incredible tale of Mowgli (Landon Clements), a young boy raised by wolves. With the help of his friends—the bear Baloo (Dante Lowe), the panther Bagheera (Wyatt Mahoney) and the python Kaa (Brinkley Brewer)—Mowgli learns the ways of the jungle. Some of the jungle boy's adventures are gripping, like the time he encounters the hooded cobra (Michael Amburn) who guards the treasure vault in the Deserted City.  Others, like the coconut-tossing monkeys (Landon Kirkpatrick, Maegen Sterling, Lexi Knight, Macy Middleton, Zachary Linn, Emma Pruitt, Chasity Price, Lexi Poor) who take him prisoner, are hysterical. But the jungle is also dangerous, for it is the home of Shere Khan (Andrew Coble), the man-eating tiger who has vowed to destroy Mowgli. With his fawning jackal follower (Jude Bilbee), Shere Khan plots to take control of the jungle. Mowgli must use all his strength and courage, and the help of his friends to stop Shere Khan before it is too late.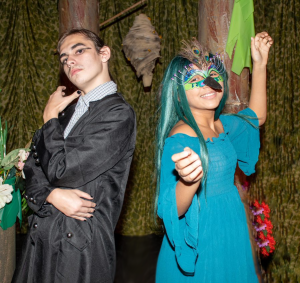 With a stellar cast including Danielle Devito, Maci Bright, Wynn Mahoney, Caleb Lord, Michele Reynolds, William Dorsey, Valeria Carbajal, Elise Halsted, Lily Brockelman, Jacob Cothran, Laura Bracken, Jennafer Wilson, Skyler Grebe, Emily Perkins, Jerome Sweatman), this adaptation will enchant you and have you cheering when Mowgli declares, "I am Mowgli, Keeper of the Law and Guardian of the Jungle!"
Please Note: Along with Disney, we acknowledge that this play includes negative depictions and/or mistreatment of people or cultures. These stereotypes were wrong then and they are wrong now. Rather than remove this content, we want to acknowledge its harmful impact, learn from it and spark conversation to create a more inclusive future together. The producers of this play believe that, perhaps in spite of Kipling's or the playwright's own understanding of the these issues, the search and struggle for belonging presented in Mowgli's story is the very key to understanding the struggles that are even more magnified among us today.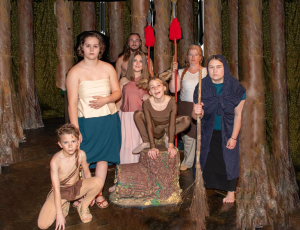 As with any adaptation of a book to a live performance—and our season is full of them this year!—we suggest a (re-) reading of the book both before and after the performance. We suggest this because it both prolongs the entertainment and makes the experience more enriching. By reading the book before and after, you are able to engage your own imagination of the characters and scenery, etc., or even of the nuances of the plot, then gain insight into the playwright's imagination of the same, and then deepen and broaden your own imagination through the post-performance reading. You may agree or disagree with any playwright's choices in an adaptation…and, maybe, if you disagree enough, another playwright will have been created!
To read Kipling's collection of short stories, visit the Boone County Public Library or a library near you…or buy it online. A version to read on tablets is available for under two dollars and is available in the same place. If you follow our links to buy the book, you'll notice that where 'www' normally is, it says 'smile', which means you can designate the OAC/Lyric to receive a portion of what you pay for the book (it won't increase your price or take money away from creators or producers of a product, but comes out of Amazon's profit).
Join us at The Lyric for a literary classic brought to life! Tickets for The Jungle Book, November 17–21 #LiveAtTheLyric, are available now here at TheLyric.org by clicking any "Get Tickets" link, or calling the OAC office at (870) 391-3504 (please leave a detailed message if you get our voicemail).