The Theatre Company of the Ozarks and
the Ozark Arts Council Present:

Thursday–Saturday, July 1–2 & 8–9, 7:00PM
Sunday, July 3 & 10, 2:00PM
The Theatre Company of the Ozarks and The Ozark Arts Council present Disney's Freaky Friday, A New Musical, performed at the Historic 1929 Lyric Theater July 1–2 and July 8–9 at 7:00PM, July 3 and 10 at 2:00PM. Tickets are $12 for adults, $10 for seniors and students, and $8 for children, when bought in advance; prices rise $3 if purchased at the door—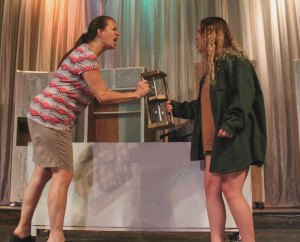 $11 for children, $13 for seniors and students, and $15 for adults.
Based on the beloved 1972 novel by Mary Rodgers and the hit Disney films, Freaky Friday, A New Musical hits all the right notes!
Teenager Ellie (Bri Coleman) is…annoyed. Her mother, Katherine (Shawna Cash), is in a frenzy planning her own wedding, her brother Fletcher (Landon Clements) is being his usual irritating, little-brother-self, and her soon-to-be-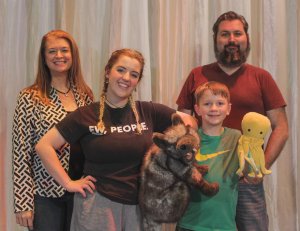 stepfather, Mike (Michael Amburn), is just too overbearing. When Ellie wants to go on a scavenger hunt with her friends (Lexi Poor, Emma Bock) instead of attending Katherine's rehearsal dinner, she and Katherine argue and end up breaking a magical hourglass…which makes them swap bodies. When they realize they need another hourglass to switch back, they rush to find it, as they have just one day to put things right again!
Freaky Friday, a new musical based on the celebrated novel by Mary Rodgers and the hit Disney films, is a heartfelt, comedic, and unexpectedly emotional update on a classic. With a stellar cast of both new and familiar Lyric faces—including Ann Lemley, Bannon Jones, Liani Cash, Jerome Sweatman, McKenna Franks, Candace Lamberts, Delaney Bowie, Courtney Lantis, Becky Poor, Kinder Hinrichs, Marsha Franks, Jacob Howton, Patrick Franks, Julie Davis, and Joe Cotton—you'll laugh riotously and be sincerely touched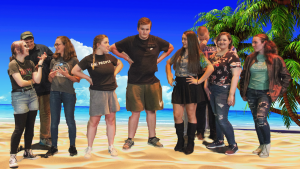 as you see two seemingly opposite people come to appreciate one another's struggles, learn self-acceptance, and realize the immeasurable love and mutual respect that bond a mother and daughter.
As with any adaptation of a book to a live performance, we suggest a (re-)reading of the book both before and after the performance. We suggest this because it both prolongs the entertainment and makes the experience more enriching. By reading the book before and after, you are able to engage your own imagination of the characters and scenery, etc., or even of the nuances of the plot, then gain insight into the playwright's imagination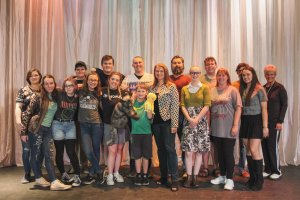 of the same, and then deepen and broaden your own imagination through the post-performance reading. You may agree or disagree with any playwright's choices in an adaptation…and, maybe, if you disagree enough, another playwright will have been created!
To read the novel by Mary Rodgers, visit the Boone County Public Library or a library near you…or buy it online. If you follow our links to buy the book, you'll notice that where 'www' normally is, it says 'smile', which means you can designate the OAC/Lyric to receive a portion of what you pay for the book (it won't increase your price or take money away from creators or producers of a product, but comes out of Amazon's profit).
Join us at The Lyric for Disney's Freaky Friday, A New Musical, July 1–2 and July 8–9 at 7:00PM, July 3 and 10 at 2:00PM #LiveAtTheLyric. Tickets are available now here at TheLyric.org by clicking any "Get Tickets" link, or calling the OAC office at (870) 391-3504 (please leave a detailed message if you get our voicemail).