The Theatre Company of the Ozarks and
the Ozark Arts Council Present:

Wait Until Dark, a Suspense Thriller

September 29–30, October 1 at 7pm, October 2 at 2pm! #LiveAtTheLyric!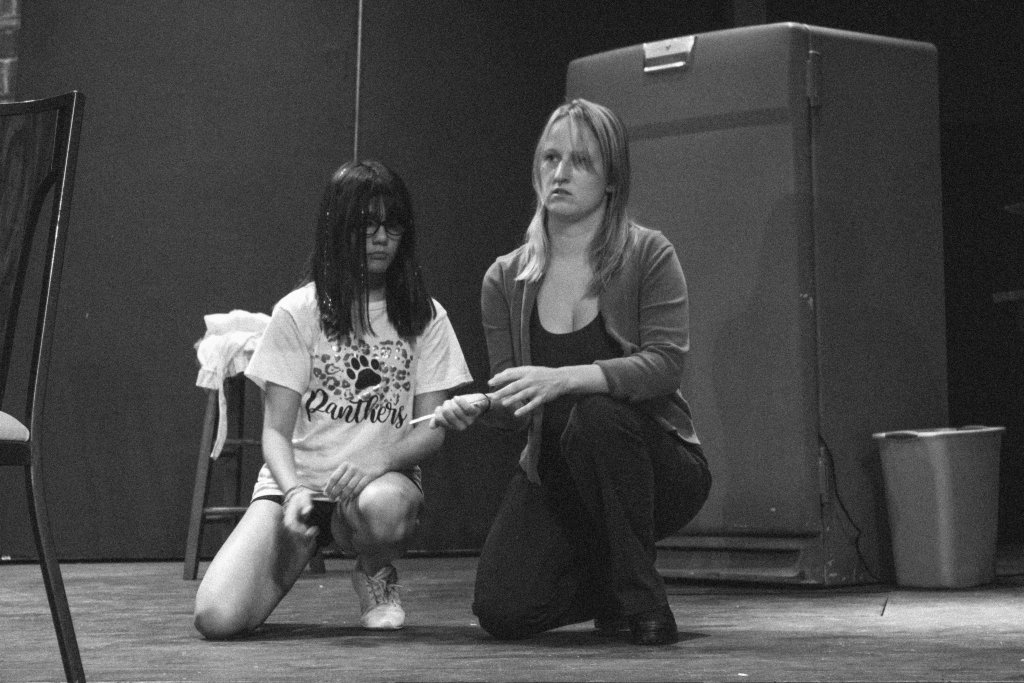 The Theatre Company of the Ozarks and The Ozark Arts Council present Wait Until Dark, performed at the Historic 1929 Lyric Theater September 29–30, October 1 at 7:00PM and October 2 at 2:00PM. Tickets are$12 for adults, $10 for seniors and
students, and $8 for children, when bought in advance; prices rise $3 if purchased at the door—$11 for children, $13 for seniors and students, and $15 for adults.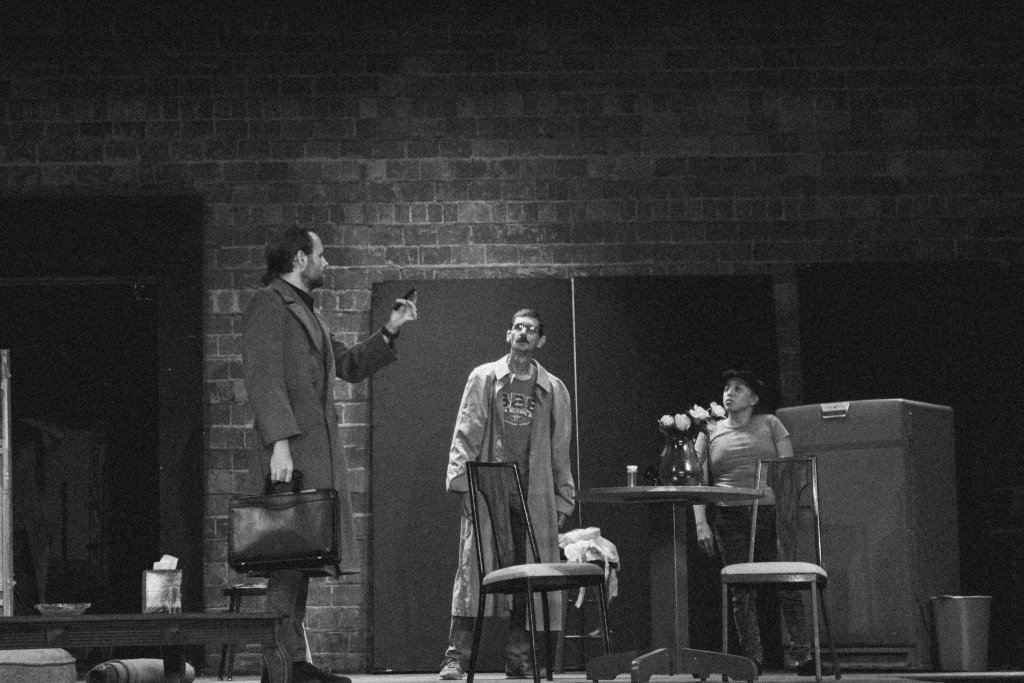 A sinister con man, Roat (August Gideon), and two ex-convicts, Mike (Joe Cotton) and Carlino (Lexi Knight), are about to meet their match. They have traced the location of a mysterious doll, which they are much interested in, to the Greenwich Village apartment of Sam Hendrix (James Melton) and his blind wife, Susy (Katie Blessing).
Sam apparently had been persuaded to transport the doll across the Canadian border, not knowing several grams of heroin were sewn inside.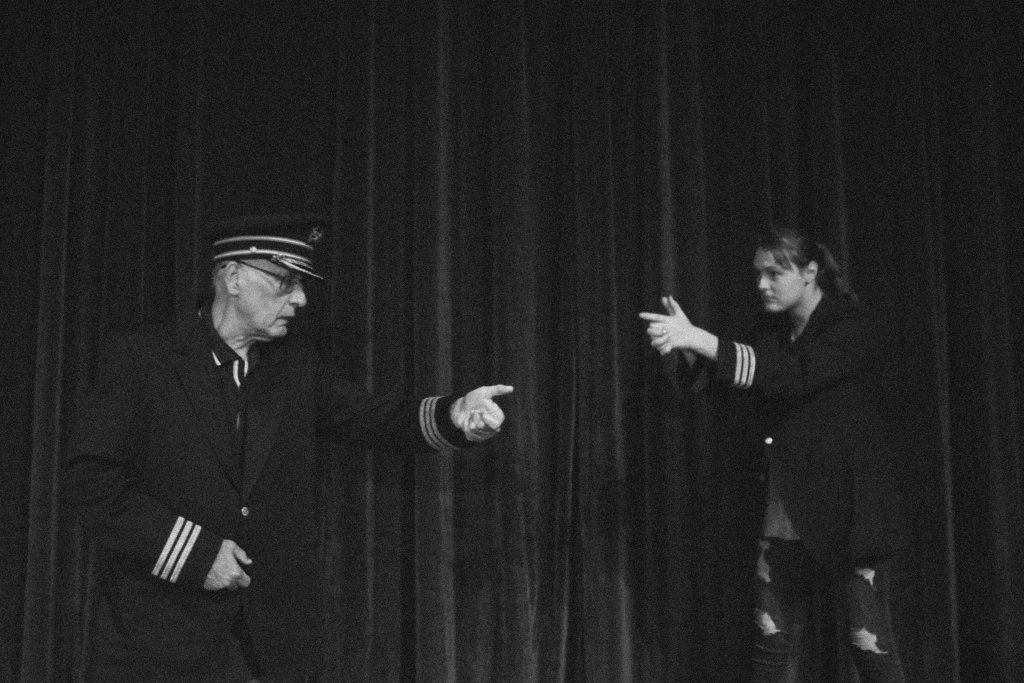 When the woman is murdered the situation becomes more urgent. The con man and his ex-convicts, through a cleverly constructed deception, convince Susy that the police (Fred Lutz, Chasity Price) have implicated Sam in the woman's murder,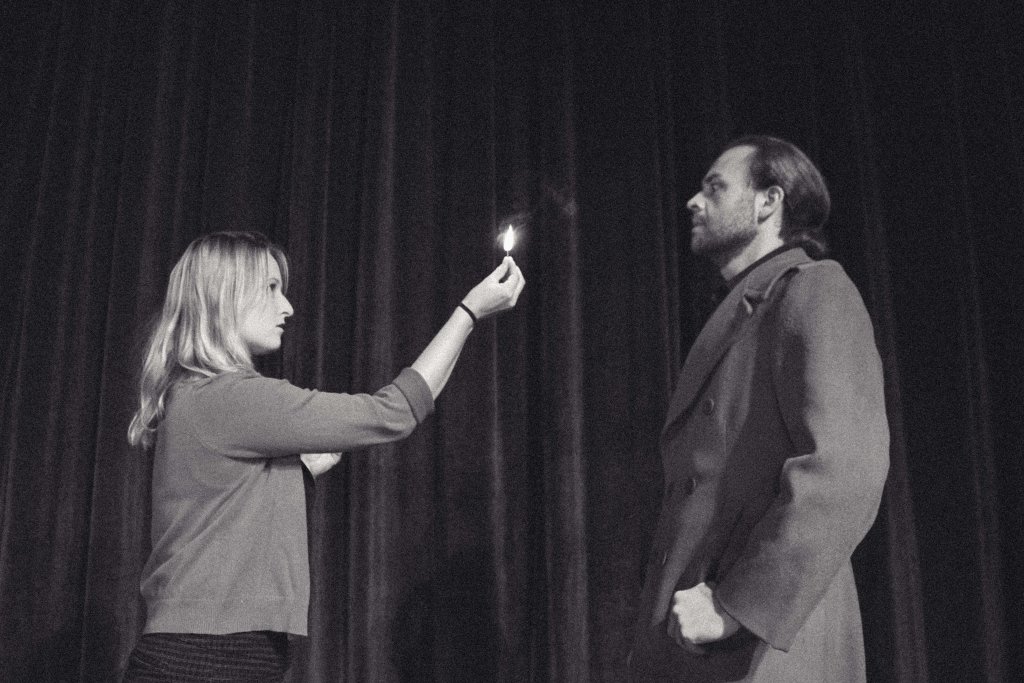 and the doll, which she believes is the key to his innocence, is evidence. She refuses to reveal its location, and with the help of a young neighbor (Emma Pruitt), figures out she is the victim of a bizarre charade. When Roat kills his associates, though, a deadly
game of cat and mouse ensues between the two. Susy knows the only way to play fair is by her rules, so when darkness falls she turns off all the lights leaving both of them to maneuver in the dark until the game ends.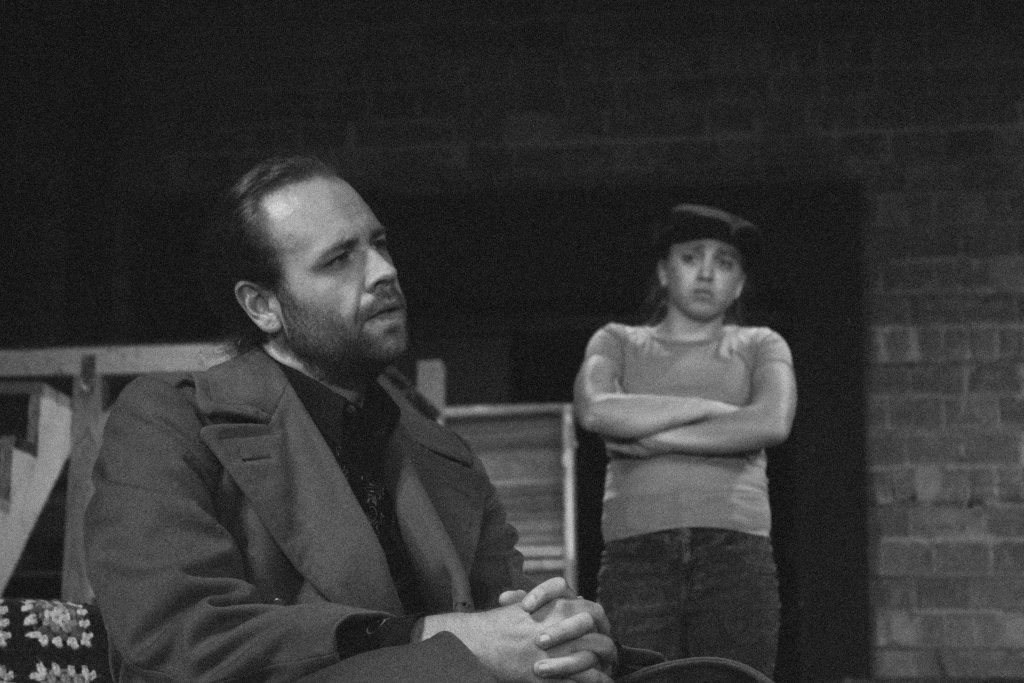 Join us at The Lyric for Wait Until Dark, September 29–30 and October 1 at 7:00PM, October 2 at 2:00PM #LiveAtTheLyric. Tickets on sale NOW!
Meet the Cast!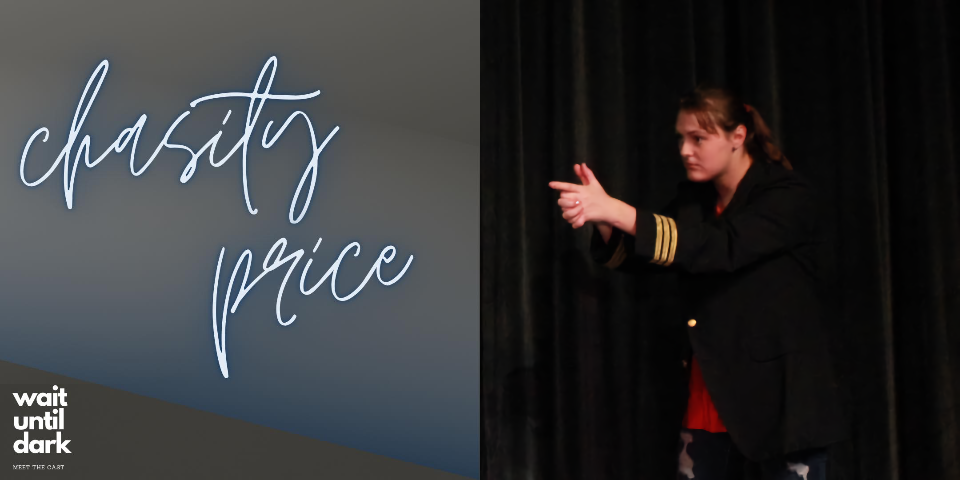 My name is Chasity Price and I'm excited to do this play…one thing that the people need to know is that I have autism and I have a love for theatre. Here's to a good show!
Police woman #2 is the type of cop that is not afraid of anything and she doesn't care who did what and as long as the killer is put up, every thing is chill.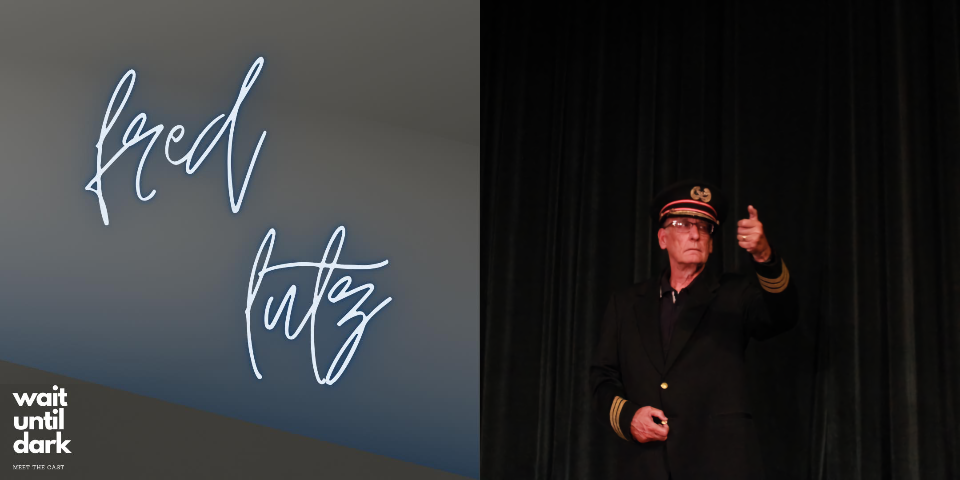 Fred Lutz is very excited about being in this production. This is his first Lyric experience. Fred has had numerous acting parts but this is the first dark and serious play in which he has been cast. Fred wants to thank his wife Sue for her encouragement.
Policeman 1 is a typical New York policeman that is called out on varied calls to bring calm and restore peace out of chaos. He is taken aback by this call, however, by its darkness and bodies.
I'm Lexi Knight and my world is a stage!—well, since I was 7/8. Acting is my greatest passion and hope to one day see my name in lights! When I am not at home (the Lyric) I am educating and attending to the needs of tiny humans, or at my place of residence watching shows, reading, sewing, or yes blasting showtunes!
Carlino isn't the sneakiest thief in the night. He is greedy, clusmy, and easily distracted. After all, he is a first grade dropout. He has an interest in photography and also loves food, so the worst thing he will do is raid your fridge, which is probably what got him arrested in the first place!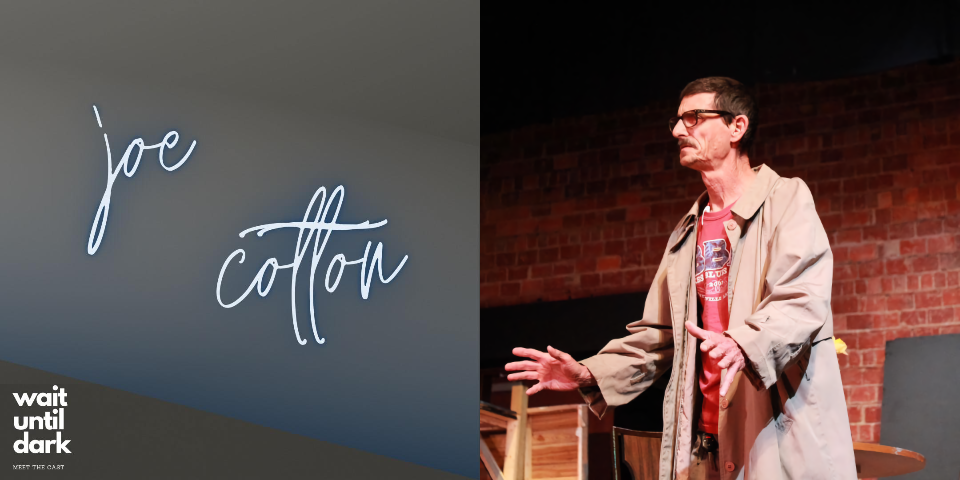 Joe Cotton says…
"I have been in a few plays, but this is my first non-musical, non-comedy play. Looking forward to my first drama. Acting in the Lyric always brings back good memories. Just remember that the actors are the face of the play, but nothing happens without the backbone of the play, the unseen movers and shakers that make the play happen.
"Mike Talman is your typical con-man, but he makes the unforgivable mistake of developing sympathy for the mark. This is the first film that truly scared the 'you know what out' of me that I watched back in the late sixties, at the historic Lyric Theater. Let the suspense begin!"
Today's "Meet the Cast" is a special one. This person stepped into a role about two and a half weeks prior to opening night. He's had less than half the amount of time to become his character than the rest of the cast, and we think he's doing spectacularly! Meet James Ian Melton, playing the role of Sam Hendrix.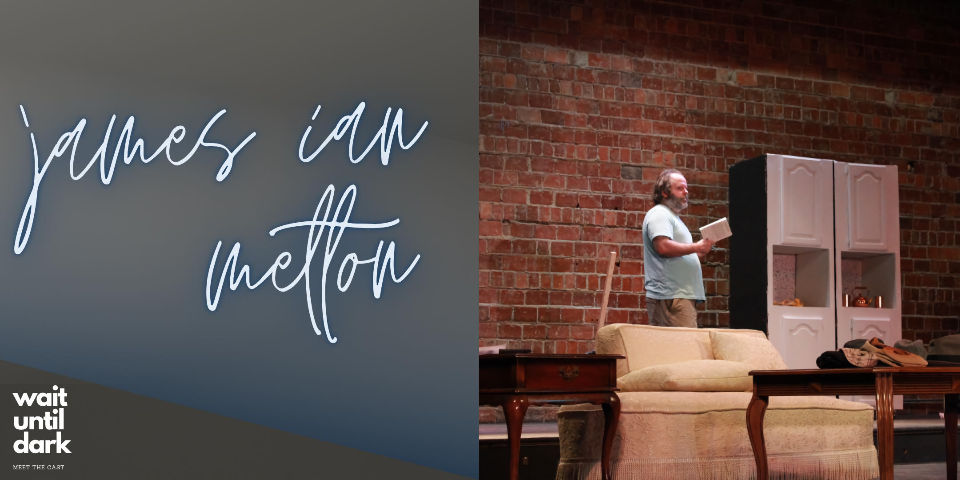 A Harrison resident all my life, I have participated in Theatre Company productions doing a variety of roles since I was about 14. My acting work experience was playing "Howard," the Haint of Mutton Hollow, for about 16 years at Shepherd of the Hills, Branson, Missouri. After not doing acting for several years, I'm trying to get back into it.
Sam Hendrix is a loving husband, who married Susy after an accident had taken her eyesight. He is a perfectionist and a photographer, who wants to see the best in himself and everyone around him. When returning from a photography trip, a woman at the airport asks Sam to hold a doll, that he didn't know was full of heroin, and she would get it from him later—which leads to other sinister activities.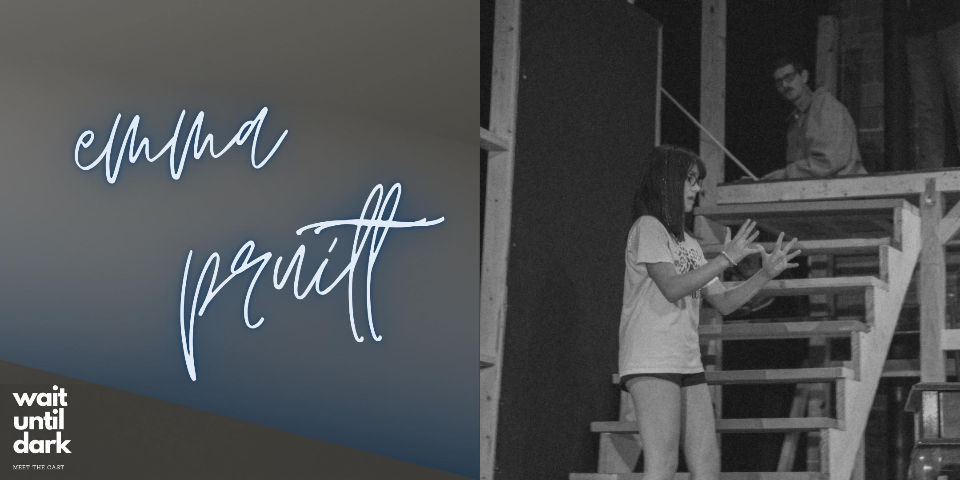 Emma Pruitt says…
"I am 12 years old and The Lyric is like a second home to me as I have been doing plays regularly since I was 5. I feel this is my biggest and most important role yet. I am excited and honored to be playing the part of Gloria. My dream, when I grow up, is to be on Broadway! Thank you to the directors and all the other amazing castmates! Here's to a great show!
Gloria, the little girl upstairs plays a very pivotal role in the play. She is a headstrong, bratty, stubborn, and adventurous child. Although she loves Sam, she and Susy don't always see eye to eye. Gloria gets them all into a big predicament when she takes a toy doll that doesn't belong to her.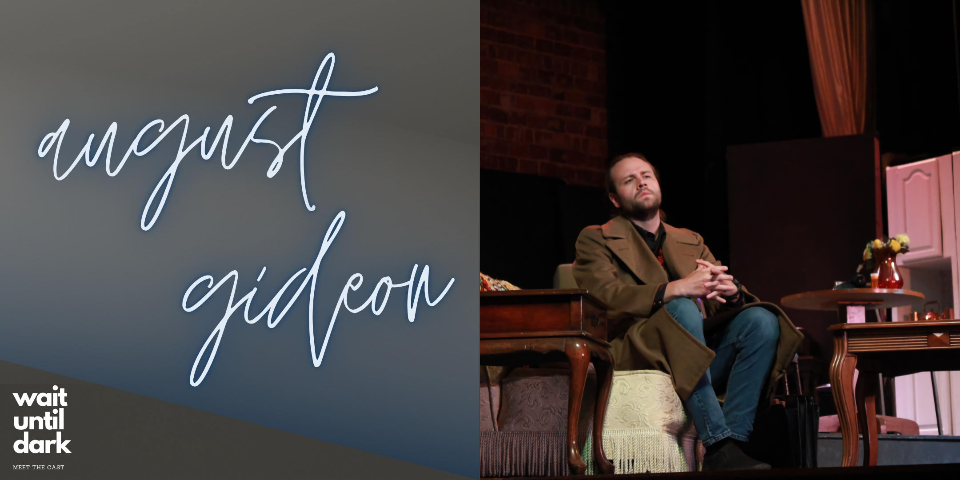 My name is August Gideon and I currently reside in the Branson area. I have always enjoyed art, especially music, but after accepting my first role in "The Shepherd of the Hills Outdoor Drama," I became addicted to acting. After some encouragement from my friends and family, I decided to branch out to community theater. I am thrilled to be part of this cast and it is a true honor to share the stage with so many talented individuals.
Harry Roat, Jr. is a con man who takes great pleasure in manipulating people. He is a violent mysterious individual who will stop at no end to get what he wants. If you look past the manipulation and the violence you see him for what he really is, an actor who uses his talent for evil.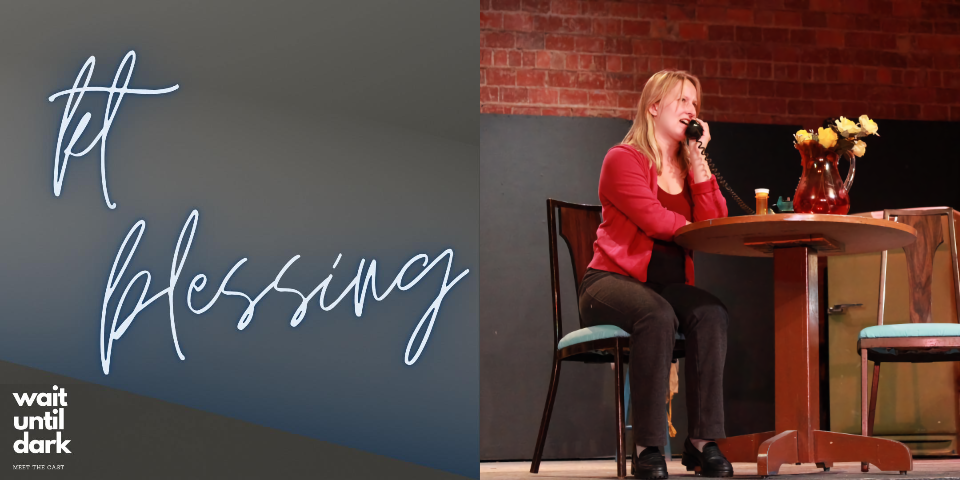 Kt Blessing is a sixteen-year veteran of the Lyric stage. You may recognize her from past performances as Rizzo (Grease), Philia (A Funny Thing Happened on the Way to the Forum), and Rosencrantz (Hamlet), among many others. Kt would like to thank the amazing cast and directors of Wait Until Dark for all their hard work, and would like to thank her family and friends for all their support during this whirlwind production.
Susy Hendrix is newly married and recently blind. She is still learning how to navigate the world in the dark. And in Wait Until Dark, she has to use her wits and resourcefulness to try to outsmart the conmen invading her home.