The Theatre Company of the Ozarks and
the Ozark Arts Council Present a
Sketch Comedy Cavalcade in Tribute to:
The

Carol Burnett

Show
Friday–Saturday, June 11–12, 7:00PM
Sunday, June 13, 2:00PM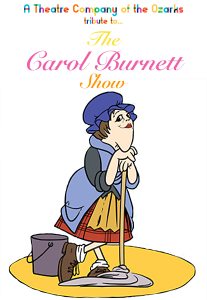 The Theatre Company of the Ozarks and The Ozark Arts Council will present a tribute to a wonderful lady and the glorious sketch comedy and variety she shared with us through her weekly CBS TV series—a tribute to The Carol Burnett Show, performed #LiveAtTheLyric June 11–13! Tickets are available through The Lyric's ticketing page with Advance Tickets priced at $8 children, $10 seniors, $12 adults. Ticket prices at the door will be $11 children, $13 seniors, $15 adults. Face coverings for disease transmission are not required, but no one will object if you still wish to wear one.
Eight comedy sketches from Carol Burnett's televised shows will be performed, including such favorites as "The Old Folks," the deadbeat "Fusco" family, and a parody of Bonnie and Clyde. Cherished memories of Carol, Harvey, Tim, and the gang are sure to flood back for you, just as they have for the cast.
But that's not all…
The show is nonstop with entertainment between the sketches, as well, and a half time intermission. Concessions will, of course, be available in the lobby and libations up upstairs.
The Theatre Company is sponsoring this event as a fundraiser for the Lyric to help pay for repairs from water damage sustained during the winter storm.  We will also gladly accept donations (see the potty in the lobby!).
The cast and crew are so excited to have the Lyric open after nine months being dark.
Harrison, welcome back to the Lyric!
Join us at The Lyric for some of the greatest comedy sketches in TV history, for the first time ever #LiveAtTheLyric! Performances will be June 11–13. Tickets for our Tribute to Carol Burnett are available now here at TheLyric.org by clicking any "Get Tickets" link or by calling (870) 391-3504 (please leave a detailed message if you get our voicemail).