The Theatre Company of the Ozarks and
the Ozark Arts Council Present a
Jones Hope Wooten Comedy:
Farce of Habit
Friday–Saturday, August 14–15 & 21–22, 7:00PM
Sunday, August 16 & 23, 2:00PM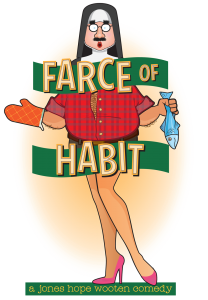 The Theatre Company of the Ozarks and The Ozark Arts Council, will present Farce of Habit, a typically raucous Jones Hope Wooten comedy, #LiveAtTheLyric the middle two weekends of August, 2020 (August 14–16 & 21–23)! Tickets are available through The Lyric's ticketing page with Advance Tickets priced at $8 children, $10 seniors, $12 adults. Ticket prices at the door will be $11 children, $13 seniors, $15 adults.
Just when you thought it was safe to fish in the Ozarks…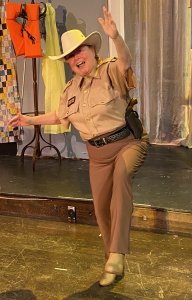 Comic fireworks explode in Farce of Habit (the sequel to 2016's Farce of Nature), an absurdly funny Southern-fried romp that takes us back to the Reel 'Em Inn, the finest little fishing lodge in the Ozarks. The proprietor, D. Gene Wilburn (Preston Garrison), is looking forward to a peaceful weekend on the lake. But there are only two chances of that happening: slim and none!
Why, for example, has his wife, Wanelle (Michelle Dees), picked these three days to white-knuckle her way through caffeine withdrawal? Why is his son Ty's (Shade Roberts) marriage to Jenna (Shelby Waters) falling apart so fast? Could it have something to do with the French can-can costume Ty is wearing? How on earth would D. Gene's feisty sister, Maxie (Kay Arthur), allow herself to get caught up in such a bizarre undercover police assignment?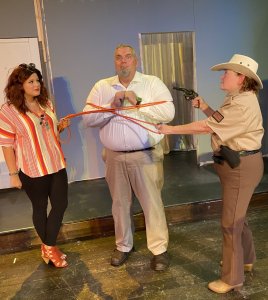 And that's just his family. If this isn't enough to thwart D. Gene's weekend plans, he's got a gaggle of nuns who've converged on the Inn, hell-bent on experiencing a nature retreat—which might be tolerable if D. Gene didn't have a chronic fear of anything in a habit. Add to this the presence of Jock McNair (Carl Palmer), a nationally known relationship guru whose colossal ego threatens everyone's sanity; a shy retiree, Huddle Fisk (Joseph Cotton), anxious to cut loose and embrace his "inner caveman," and a couple of wild women, Barb Stratton (Emily Still) and Sister Myrtle Agnes (Emily Perkins), who may or may not be who they claim to be. Throw in the storm of the century that's fast bearing down on Mayhew, Arkansas, and D. Gene has no prayer of baiting a hook any time soon. Oh, and did we mention there's an ax murderer on the loose?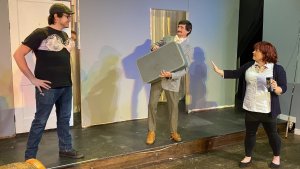 If you enjoy gloriously preposterous hilarity, then laughing your way through the take-no-prisoners lunacy of a Jones Hope Wooten comedy is one habit you'll never want to break! Tickets on sale right here on our website…and don't forget to check out our new Theatre Company Season Passes! When you become an Ozark Arts Council member, you become eligible for these exclusive passes, which will save you money on our upcoming season, including Farce of Habit, Nunsense II, Freaky Friday, and…Arsenic and Old Lace! Visit the ticketing page or call 870-391-3504 for more info!
In trying times, what could be better than a healthy dose of Jones Hope Wooten comedy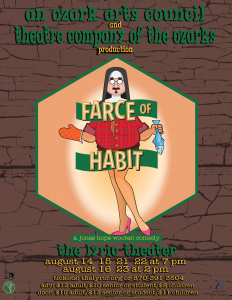 ? Three of the most popular and widely-produced playwrights in the country, with Broadway, film, and TV credits (e.g., The Golden Girls and Disney's Teacher's Pet), Jessie Jones, Nicholas Hope and Jamie Wooten specialize in laugh-out-loud comedies, and this will be a great one!
Please Note for Your Safety and Comfort: We have our patrons' health and well-being first and foremost in our minds as the Covid-19 numbers rise but we're all learning to work around it, so please make sure you read the guidelines below that we have put into place (per the Arkansas Department of Health's directives) to keep you protected. Please read carefully, as we are required to abide strictly by these guidelines—and please note that, as we've seen these past several months, these guidelines may change at any moment. If they do, we will be sure to update you. We are doing everything we can in our cleaning procedures and following of the ADH guidelines to keep you safe, and we appreciate your doing the same for our volunteers and performers.
The ADH Requirements
Patrons must be required to wear a mask if over 10 years of age.
Every patron's temperature must be checked upon entrance and will be asked several questions pertaining to travel and health. Patrons will not be able to enter if:

They have fever, cough, shortness of breath, sore throat, or loss of taste or smell.
They have had known exposure to someone with Covid-19 in the past 14 days.

A 6-foot gap must be maintained between patrons who do not "shelter together," so only groups with family members should get tickets with adjoining seats. If you plan on going with anyone who does not live in the same household with you, please call 870-391-3504 for our help on getting you seats as close together as possible, while still allowing for the "social distancing" regulations.
We are allowed to serve refreshments, so our concession stand and the upstairs Immortal BarD will be open. However, we will have signs posted reminding patrons to keep a 6 foot distance, and we will not be able to accommodate clustering of groups at the counters.
Though it is a tradition at the Lyric to allow audience members to come up and greet the cast at the end of plays, we will forego this for now to keep the required 12 feet of distance between those on stage and those in the audience. If you wish to tell the cast "good job!" you can leave comments right here on this page!
If you have any questions about how we are protecting our volunteers, or about any of the guidelines, please don't hesitate to call 870-391-3504 or send an email here.
Join us at The Lyric for great southern comedy August 14–16 & 21–23. Tickets for Farce of Habit are available now here at TheLyric.org by clicking any "Get Tickets" link or by calling (870) 391-3504 (please leave a detailed message if you get our voicemail).