The Theatre Company of the Ozarks and
the Ozark Arts Council Present a
Jones Hope Wooten Comedy:
Always a Bridesmaid
Thursday-Saturday, June 25–27, 7:00PM
Sunday, June 28, 2:00PM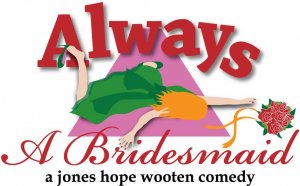 The Theatre Company of the Ozarks and The Ozark Arts Council, will present Always a Bridesmaid  #LiveAtTheLyric the last weekend of June, 2020 (June 25–28)! Tickets are available through TheLyric.org with Advance Tickets priced at $8 children, $10 seniors, $12 adults. Ticket prices at the door will be $11 children, $13 seniors, $15 adults.
In trying times, what could be better than a healthy does of Jones Hope Wooten comedy? Three of the most popular and widely-produced playwrights in the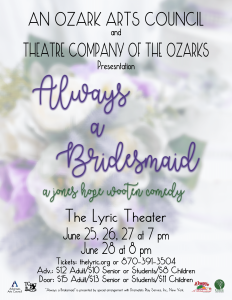 country, with Broadway, film, and TV credits (e.g., The Golden Girls and Disney's Teacher's Pet), Jessie Jones, Nicholas Hope and Jamie Wooten specialize in laugh-out-loud comedies, and this will be a great one!
Please Note for Your Safety and Comfort: We have our patrons' health and well-being first and foremost in our minds as the Covid-19 numbers rise but we're all learning to work around it, so please make sure you read the guidelines below that we have put into place (per the Arkansas Department of Health's directives) to keep you protected. Please read carefully, as we are required to abide strictly by these guidelines—and please note that, because the play is still a month away, these guidelines may change. If they do, we will be sure to update you. We are doing everything we can in our cleaning procedures and following of the ADH guidelines to keep you safe, and we appreciate your doing the same for our volunteers and performers.
Wedding Season is just around the corner…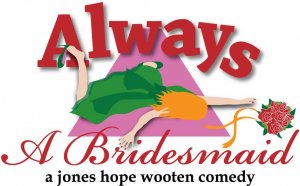 …and we can't wait to see our darling Southern Belles marry their soulmates this month (June 25-27 at 7:00pm and June 28 at 2:00pm) at our own beautiful and historic "wedding venue," The Lyric Theater! More about the story will follow the ADH guidelines for attending plays this Summer.
The ADH Requirements
Patrons must be required to wear a mask if over 10 years of age.
Every patron's temperature must be checked upon entrance and will be asked several questions pertaining to travel and health. Patrons will not be able to enter if:

They have fever, cough, shortness of breath, sore throat, or loss of taste or smell.
They have had known exposure to someone with Covid-19 in the past 14 days.

A 6-foot gap must be maintained between patrons who do not "shelter together," so only groups with family members should get tickets with adjoining seats. If you plan on going with anyone who does not live in the same household with you, please call 870-391-3504 for our help on getting you seats as close together as possible, while still allowing for the "social distancing" regulations.
We are allowed to serve refreshments, so our concession stand and the upstairs Immortal BarD will be open. However, we will have signs posted reminding patrons to keep a 6 foot distance, and we will not be able to accommodate clustering of groups at the counters.
Though it is a tradition at the Lyric to allow audience members to come up and greet the cast at the end of plays, we will forego this for now to keep the required 12 feet of distance between those on stage and those in the audience. If you wish to tell the cast "good job!" we will have a digital guestbook set up where you can leave your well wishes!
If you have any questions about how we are protecting our volunteers, or about any of the guidelines, please don't hesitate to call 870-391-3504 or send an email here.
The Story
Always a Bridesmaid is a Jones Hope Wooten Southern Comedy.
If you've ever elbowed a stranger out of the way to catch a brideís bouquet, seriously questioned the mental stability of the duo saying "I do" or been forced to wear the world's ugliest bridesmaid dress, this deliriously funny Jones Hope Wooten comedy is definitely for you—and your dearly beloved!
In this hilarious comedic romp, four friends have sworn to keep the promise they made on the night of their Senior Prom: to be in each other's weddings—no matter what. More than thirty years later, these Southern friends-for-life are still making "the long walk" for each other, determined to honor that vow. Libby Ruth (Julianna Hamblin), the hopeful romantic with the perfect marriage, believes—in spite of all evidence to the contrary—that her friends can find the very same happiness. Headstrong Deedra's (Spree Hilliard) "rock-solid" union hangs by a thread when she discovers her husband of many years not only has a wandering eye, but the hands to match. Monette (Kirstyn Walker), flashy, high-spirited and self-involved, continues to test her friends' love and patience with all-too-frequent trips down the aisle. And salt-of-the-earth, tree-hugging Charlie (Emily Akins) discovers—the hard way—that marital bliss is not the end of her rainbow and panics in outrageous style when the opportunity presents itself.
Narrated hilariously by blushing bride Kari (Callie Johnson) and with energetic life-force Sedalia (Linda Henson) running the show, this is sure to make you believe in what friendship can do. Libby Ruth, Deedra, Monette and Charlie are committed to the notion that careers, waistlines and even marriages may disappear, but real friendships last a lifetime. Forsaking all others, in sickness and in health, they repeatedly struggle to stage the perfect wedding in spite of fistfights at the altar, runaway brides and the mistaken, and unfortunate, release of a flock of white doves on the first day of hunting season.
Hop on this marriage-go-round for a laugh-out-loud journey with these beleaguered bridesmaids as they navigate the choppy waters of love and matrimony. Always a Bridesmaid is the rollicking tale of four loyal and determined women who definitively answer the question, "Just how far are you willing to go to keep a promise to a friend?"
Join us at The Lyric for great southern comedy June 25–28. Tickets for Always a Bridesmaid are available now here at TheLyric.org by clicking any "Get Tickets" link, by stopping by the OAC office at 115 W. Rush Ave. between 9 & 1 Tuesday through Friday, or by calling (870) 391-3504 (please leave a detailed message if you get our voicemail).