The Theatre Company of the Ozarks and the Ozark Arts Council Present:
Nunsense II:
The Second Coming!
Thursday-Saturday, September 10–12, 7:00PM
Sunday, September 13, 2:00PM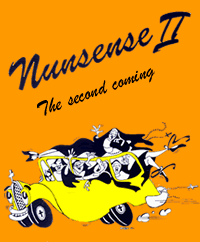 The Theatre Company of the Ozarks and The Ozark Arts Council, will present the raucous comedy, Nunsense II: The Second Coming #LiveAtTheLyric the second weekend of September (September 10–13)! Tickets are available through TheLyric.org with Advance Tickets priced at $8 children, $10 seniors, $12 adults. Ticket prices at the door will be $11 children, $13 seniors, $15 adults.
Nunsense II: The Second Coming takes place six weeks after the convent has staged its first benefit. The sisters are back presenting a "thank-you" show for all the people who supported them in the past. They're a bit slicker, now, though, having been "bitten by the theater bug"…
Things get to off to a rousing start as the sisters sing Nunsense, the Magic Word, but before long. chaos erupts. Two Franciscans come to claim Sister Mary Amnesia (who has won the Publishers' Clearing House Sweepstakes) as one of their own. At the same time, the nuns hear that a talent scout is in the audience to see them strut their stuff. From the riotous bingo game run by Sister Amnesia to the hilarious duet, "What Would Elvis Do?", to the rousing finale ("There's Only One Way to End Your Prayers and That's to Say Amen!", this show will have you rolling in the aisles!
Join us at The Lyric for music and laughter September 10–13. Tickets for Nunsense II are available now here at TheLyric.org by clicking any "Get Tickets" link, by stopping by the OAC office at 115 W. Rush Ave. between 9 & 1 Tuesday through Friday, or by calling (870) 391-3504 (please leave a detailed message if you get our voicemail).