The Theatre Company of the Ozarks and the Ozark Arts Council Present:
Steel Magnolias
Friday & Saturday, August 16 & 17, 7:00PM
Saturday, August 18, 2:00PM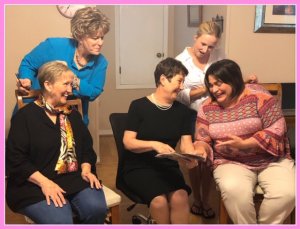 Have a little slice of Southern life and visit the elegant ladies of Chinquapin, Louisiana, a lovely bouquet of Steel Magnolias! Discount tickets are on sale now for Steel Magnolias LIVE at The Lyric Theater in Harrison, Arkansas, on August 16, 17, & 18. Friday and Saturday performances will be at 7:00 pm, and the Sunday performance will be at 2:00 pm. Tickets are available through TheLyric.org with Advance Tickets priced at $8 children, $10 seniors, $12 adults. Ticket prices at the door will be $11 children, $13 seniors, $15 adults.
Tickets to the Friday performance will support the Juvenile Diabetes Research Foundation!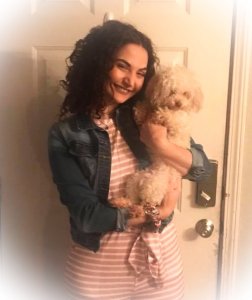 In Truvy's (Trish Lockridge), beauty salon in Chinquapin, Louisiana, where all the ladies who are anybody come to have their hair done, the shop is abuzz with gossip and coffee and hairspray. Helped by her eager new assistant, Annelle (Katie Blessing), who may or may not be married, the wise-cracking Truvy dispenses shampoo and free advice to the town's rich curmudgeon, Ouiser (Mary Bishop), whose 40-year-old bad mood has only sharpened her wit; an eccentric millionaire, Miss Clairee (Gwen Gresham), who has a sweet tooth for football teams; and the local social leader, M'Lynn (Lisa Johnson) and her vivacious daughter, Shelby (Callie Johnson), who is about to marry a "good ol' boy." Filled with hilarious repartee and not a few acerbic but humorously revealing verbal collisions between the five ladies, the play moves toward tragedy when the spunky Shelby (who has Type I Diabetes) risks pregnancy. Though we see how it much it affects them, we are also shown the strength and love of these women who are delicate as flowers, and tough as steel.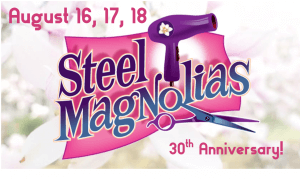 Steel Magnolias will be performed #LiveAtTheLyric August 16 and 17 at 7:00pm, and August 18 at 2:00pm. Proceeds from the August 16 show will go to the JDRF (Juvenile Diabetes Research Foundation). Tickets on sale NOW at TheLyric.org, by calling 870-391-3504, or visiting the office T–F 9:00am–1:00pm.