Top Solo Blues Artist Eli Cook Heads to The Lyric for a Class and a Concert!
Saturday, October 5 at 7:00PM
Join us on October 5 at 7:00pm, for the guitar mastery and rich baritone voice that brought the writers of Blues Matters magazine to rank him as a "top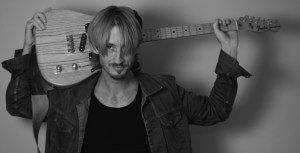 international solo artist" above Devon Allman and Elvin Bishop…before he had reached his 30th birthday: Eli Cook's busy hands and feet (resonater and 12-string, plus tambourine and stompbox) are coming to the Lyric this Fall!
Coming Soon: Information on the acoustic blues class Eli will be teaching at the Lyric! Why is info delayed? Because we want you to get your concert tickets first, so that you save $10 on his class!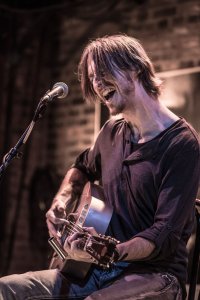 AllMusic noted that Eli Cook "has what it takes to be the best blues singer of his generation." Blues Matters! stated that Cook is "among the top 3 solo blues artists world-wide." Arnie Goodman's words in Elmore Magazine immediately make sense when you consider Eli's main influences—John Lee Hooker, Muddy Waters, Soundgarden, and Rage Against the Machine—
What Eli is doing is giving an authenticity to the blues, but giving it the energy a modern rock band would give it. That's the key to it.
As Eli himself says, "Everything I do is always deeply rooted in classic blues—meaning the feeling of it and the music theory aspect of it. It's especially rooted in what they call pre-war blues, the more acoustic, rootsy stuff." Joe McSpadden, writing in the roots music quarterly No Depression sums it up this way:
On the seventh album of his career the phenom from Nelson County, Virginia reins in his inner guitar god and makes his most focused roots blues album yet. High-Dollar Gospel finds Cook showcasing his acoustic mojo and the result is the most satisfying record of his career.
That album—released to universally rave reviews in 2017—was a blend of Cook's love of country pickers to blues rockers and included covers from Muddy Waters and Roosevelt Sykes that have been in his live shows for years, as well as an outstanding cover of Bob Dylan's "I'll Be Your Baby Tonight."
Through the years, Cook has performed and recorded both acoustic and electric blues, and his Primitive Son album (2014), contained guest appearances by Vinny Appice and Artimus Pyle (drums); Tinsley Ellis, Eric Gales, Leslie West, Pat Travers and Harvey Mandel (guitar); Sonny Landreth (slide guitar); Rod Piazza (harmonica); and Reese Wynans (Hammond B3 organ). He has shared the stage with B. B. King and other greats from Johnny Winter, Robert Cray, and Robin Trower to Shemekia Copeland and Parliament-Funkadelic, appearing every where from the Kennedy Center to the South by Southwest festival…and now we are pleased to welcome him to The Roots Music Palace of the Ozarks, Harrison's historic Lyric Theater!
"Everybody knows the story of the crossroads, where blues guitarists go at midnight to trade their souls to the devil for musical prowess. It's just a myth, of course, but if it were true, firebrand Eli Cook could have bragging rights, as his scarifying solo-country blues chill like a hellhound on your trail." –  Guitar Player (2007)
Eli Cook is a mystifying soul. He's a keen observer and a provoking thinker…but with swagger!
Under the messy blonde hair is a passionate heart with fingers of silver and gold that recalls John Lee Hooker, Chris Smither, and Chet Atkins, mixed in with a dirty, grungy sound. It's clean playing mind you; it's just his fingers are covered in the dirt left over from the crossroads.
Coming from Albemarle County in Virginia at the Foothills of the Blue Ridge Mountains, Eli Cook grew up listening to the blues, country, classic rock and alternative rock. He grew up with no TV and radio shows like Prairie Home Companion were his Saturday night entertainment. Life moves slowly in this rural area of the world giving him time to hone his skills with his voice and guitar chops. At 18 he was opening up for B.B. King—a few years later he's playing in Canada the one week and then the next week he's blending in with his hometown locals.
"It's what was around me, and I just tried to pick up on everything and everybody, including Doc Watson and Chet Atkins. In fact, hearing Chet fingerpick made me realize I didn't need a band." –  Guitar Player (2007)
Tickets are available now for Eli Cook's Saturday, October 5 performance at Harrison's historic Lyric Theater, now celebrating its 90th year. This is a venue perfectly constructed for a performer like Eli, with the maximized 'live' acoustics that were necessary for the first generation of talking motion pictures—and the dedicated Lyric fans that consistently fill our seats for blues concerts will make for the sort of electric environment this acoustic blues concert deserves, so choose your seats early for whatr promises to be an outstanding evening!
All seats are $15 in advance or $20 at the door and may be purchased online, by visiting the Ozark Arts Council office at 115 W. Rush Ave. (one door to the left of the theater) Thursday–Friday 9:00–1:30, or calling (870) 391-3504.