Auditions!
The Theatre Co. of the Ozarks will have auditions for Radium Girls at the Lyric Theater on Saturday November 18 at 2pm and November 19 at 2pm. Ages 9 and up only. For more questions, tc***********@gm***.com">please click to email us or call 870-391-3504.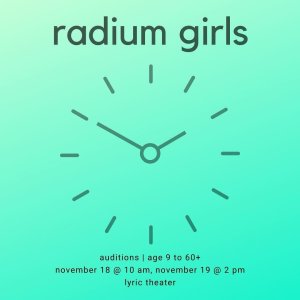 The Requirements
Only those auditioning may be present. Auditions will consist of sides from the script, chosen by the director.
Ages 15 and up.
The Story
Auditions will consist of cold reads only with scripts provided by the directing team. Performances for Radium Girls will be January 25-28, 2024.
There are approximately 37 characters in Radium Girls, about half male and half female. There will be several people who are cast in multiple roles. Characters range in age from stage age 9 (one female child) to 60+. For a full character break down, please visit https://stageagent.com/…/13953/radium-girls/characters.
Show Synopsis:
Radium Girls is D.W. Gregory's gripping drama based on the true story of female laborers who were poisoned and killed by their factory's radium-based paint. Though Radium Girls ranges from 1918 through the 1940's, the bulk of the narrative is centered on events in New Jersey in the mid 1920's.
The play highlights Grace, Irene, and Kathryn who paint dials in the U.S. Radium Plant and are instructed to finely point their brushes by molding the bristles with their mouths while painting. The factory's new owner, Arthur Roeder, is excited by radium's promising future and believes in the company's potential for growth. Roder's mindset is supported by Marie Curie, the internationally famous scientist, who believes radium provides many health benefits and could even cure cancer.
But soon many of the the girls begin to notice disturbing health issues, and one of their co-workers dies, but her death is brushed aside. The plant tries to keep the girls who are getting sicker from talking to the press, push back their court dates, and deflect any negativity toward the company. Some of the surviving girls finally get settlements and medical coverage for the rest of their shortened lives.
Radium Girls fiercely examines the commercialization of science, the pursuit of both health and wealth, the power of the underdog, and the fierce injustice laborers in America have faced, and may even continue to face in the present. 
Thank you for supporting the Arts and good luck!