The Harrison High School
Theatre Department,
ITS Troupe 2715,
and the
Ozark Arts Council
present:
The Best
Christmas Pageant
Ever!
Thursday–Saturday, December 2–4, 7:00PM
Sunday, December 5, 2:00PM
Harrison High School Theatre Department presents The Best Christmas Pageant Ever at the HHS PAC on December 2, 3, 4 at 7:00pm and December 5 at 2:00pm. Tickets are available through HHSPAC.org with Advance Tickets priced at $8 children, $10 seniors, $12 adults. Ticket prices at the door will be $11 children, $13 seniors, $15 adults. All performances will be held at the Harrison High School Performing Arts Center (HHS PAC).
Thanksgiving is over and Christmas is speeding merrily closer! What better way to get in the holiday mood than by going to a performance of The Best Christmas Pageant Ever?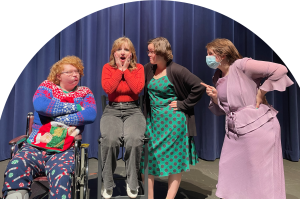 In this hilarious Christmas classic, a mother (Faith Nix) struggles to put on a church Christmas pageant with her husband's (Joseph Claus) help, but is faced with casting the Herdman kids—probably the most inventively awful kids in history (Cookie Simpson, Jude Bilbee, Donovan Walters, Rilee Young, Lily Brockelman, Addie Jones), as well as wrangling her own unenthusiastic children Beth (Lilly Mangrum) and Charlie (Zachary Jimerson) into assisting.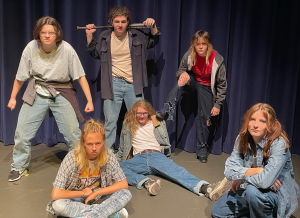 When you add an unwilling menagerie of kids of all ages into the mix (Ricky Bates, Brinkley Brewer, Maci Bright, Mysteri Cotton, Liam Dupre, Victoria Hudson, Caden Lambert, Ethan Rouse), as well as some nosy busybodies who can't wait to see it all crash and burn (Mandy Prpich, Jennafer Wilson, Iria Delgado, Camron Edwards, Laken Steiner, Elijah Ford), you're in for one wild sleigh ride! You won't believe the mayhem—and the fun—when the Herdmans collide with the Christmas story head on!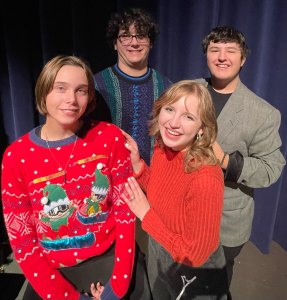 This delightful comedy is adapted from the best-selling Young Adult book by Barbara Robinson, and will certainly put you in the mood to sing a carol, drink some hot chocolate, and pull your loved ones in close. 
The Best Christmas Pageant Ever will be performed at the HHS PAC on December 2, 3, 4 at 7:00pm, December 5 at 2:00pm. Tickets available at HHSPAC.org and TheLyric.org (please note: all performances of this play will be at the HHS PAC; the ticket selection page will indicate accessible seating options).
Donations are also being accepted for Children's Charity Ministry at each performance. If you would like to donate, please bring your donations to the play and put them in front of the tree at the entrance to the PAC.
The following are the items we need donated; please stick to this list, as it is what CCM is equipped to use:
Single-serve mac and cheese
Single-serve cereal
Single-serve oatmeal
Fruit/applesauce/jello/pudding cups
Granola bars
Beanie weenies
Vienna sausage
Ramen noodles
Snack cracker packs
Pull-tab Chef Boyardee pasta
Pull-tab soups
Hey, Herdmans…it's a BOOK, too!
As with any adaptation of a book to a live performance—and our season is full of them this year!—we suggest a (re-) reading of the book both before and after the performance.

We suggest this because it both prolongs the entertainment and makes the experience more enriching. By reading the book before and after, you are able to engage your own imagination of the characters and scenery, etc., or even of the nuances of the plot, then gain insight into the playwright's imagination of the same, and then deepen and broaden your own imagination through the post-performance reading. You may agree or disagree with any playwright's choices in an adaptation…and, maybe, if you disagree enough, another playwright will have been created!
To read Barbara Robinson's The Best Christmas Pageant Ever (and the other two volumes of her series with the Herdman kids!), visit the Boone County Public Library or a library near you…or buy it online for under $6! A version to read on tablets (or with the Kindle app for Chromebooks and MacOS, Windows, and Linux computers) is available for FREE in the same place! If you follow our links to buy the book, you'll notice that where 'www' normally is, it says 'smile', which means you can designate the OAC/Lyric to receive a portion of what you pay for the book (it won't increase your price or take money away from creators or producers of a product, but comes out of Amazon's profit).
Join us at The Harrison High School Performing Arts Center for a literary classic brought to life! Tickets for The Best Christmas Pageant Ever, December 2–5 Live At The #HHSPAC, are available now through HHSPAC.org or here at TheLyric.org by clicking any "Get Tickets" link, or calling the OAC office at (870) 391-3504 (please leave a detailed message if you get our voicemail).