Comedian (and Hall of Fame Sportswriter) Sam Adams Invites you to
Laugh at the Lyric!
Friday, December 17 at 7:00PM
Join us on December 17 at 7:00pm, for a bit of refreshment from the busy-ness of the season! Sam Adams is a very funny guy—but much more, than that, as well, An acclaimed sports journalist, Sam is able to be both funny and serious in a way that draws you in, making him in great demand as a motivational speaker. Unlike some entertainers who are inclined to 'coast', Sam is both fearless (though sometimes a bit "concerned") and a student of places to which he travels to entertain—even becoming a dedicated fan of Harrison Golden Goblin Football before his first trip to the Lyric! Sam has continued honing his craft since then and came to help us out last November, as we started the Lyric's recovery from the pandemic. Now he wants to bring even more of "the funny" and to see our lobby's new look!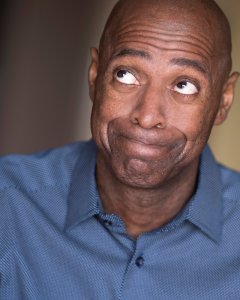 That's just the kind of guy Sam is: his humor comes from caring and his performances are hilarious precisely because of his deftly touching on things that everyone can relate to, in a way that doesn't just entertain, but helps you see 'the funny' in things, so that the show goes on long after he has left the stage and you have left the theater. That's why his comedy has resonated so well at the Lyric, where we are not typically bombarded with entertainers to distract us from life, but enjoy concerts, plays, and the like that involve a lifestyle and help us get more out of life. That is to say, the comedy of Sam Adams 'fits' an organization that has as its goal the enriching of lives through making the Arts available to all—his comedy shows him to be what his listing with the Denver Speakers' Bureau says: a true Renaissance Man.
About Sam Adams
On the pages and the stages, Sam Adams always tells a story. They are shared often when he performs an energetic, hilarious brand of comedy that is 100-percent profanity-free.
Sam is the only dual prize winner in the history of the Great American Comedy Festival. It happened in 2009, just four months after his newspaper employer of 13 years abruptly went out of business. Sam won the festival's amateur competition, and when asked to compete with the professionals, he placed second — giving him an impetus to pursue a professional career in stand-up comedy at age 49.
During the summer of 2018, the "True Color" video clip from Sam's Dry Bar Comedy special (titled 'Incoherently True') went viral, with more than 10 million Facebook views in less than 72 hours. Since then, the "True Color" video clip has amassed more than 32 million Facebook views, and the overall social media views from all of Sam's Dry Bar Comedy clips for one year have surpassed 41 million.
Sam has received a befitting label of 'Renaissance Man.' Prior to his established career in entertainment, Sam spent three decades as an award-winning newspaper sports journalist. In October 2019 he was honored by the prestigious Denver Press Club with induction to its Hall of Fame. Sam is the first African-American sports journalist to be inducted, and only the fifth African-American journalist inducted in the club's 153-year history.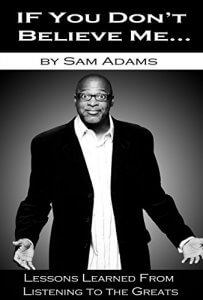 In 2003 Sam's media peers elected him Colorado's Print Journalist of the Year. His experiences as a sports journalist for major daily newspapers in the U.S. began with the Denver Post in 1986, included a stint with the Charlotte Observer (1995-96) and finished with 13 years at the Rocky Mountain News. His coverage for many of the world's most popular sporting events (from Super Bowls to Olympiads) helped Sam gain perspective for his book titled, If You Don't Believe Me: Lessons Learned from Listening To The Greats (released in April 2013.) In the book, Pro Football Hall of Fame quarterback John Elway offers the following tribute to Sam…"Through the ups and downs of an NFL career, I developed great trust, respect, and appreciation for him. Blending an uncanny ability to mix humor with keen insight and knowledge, Sam is a one-of-a-kind storyteller."
Sam's motivational keynote presentation is titled 'Going Up: Taking Steps To Elevate Your Levels Of Success.' The keynote offers riveting stories and intriguing references from his personal and professional odysseys. The audience will gain insightful and humorous tips for success gleaned from Sam's numerous encounters with an A-List of stars — from professional sports Hall of Famers to world-renown, award-winning entertainers.
Comedian. Storyteller. Journalist. Speaker. Commercial actor.
Count on Sam Adams to live up to the professional quality of entertainment he promises to give audiences of all ages.
There were two stars on the night…….Host Sam Adams….not the beer guy…..who was hysterical in a PG way that reminded us of Bill Cosby. They should have let him do the whole two hours. The other big winner was the funnel cake fries which were sweet and delicious and served in a big basket. Sam Adams, in my opinion, is a spectacular talent waiting to be discovered on a national stage. If you see him on the list of performers, you should go. — Review of Comedy Works of Denver
Sam has appeared with the likes of Daniel Tosh, Mike Epps, Jake Johannsen, Wendy Liebman, Greg Warren, and Frank Caliendo, as well as opening for musicians and bands like The Guess Who, Three Dog Night, Al Jarreau, Air Supply, Al Stewart, and Starship. A world-class entertainer—and a classy guy in general—the Ozark Arts Council is thrilled to bring Sam Adams back to the Lyric stage!
Comedian Sam Adams #LiveAtTheLyric Saturday, December 17, 2021 at 7:00. Tickets are available on our ticketing page, by visiting the OAC office at 115 W. Rush Ave. (just to the left of the Lyric doors) or by calling (870) 391-3504; $15–$18 in advance, $20–$25 at the door.