Comedian Sam Adams Is 'Coming Home' to Harrison…with News of a Documentary Inspired by YOU!
Saturday, September 7 at 7:00PM
Join us on September 7 at 7:00pm, for the return of sports writer, TV personality, author, motivational speaker, Pop-a-Shot record-setter, dedicated fan of Harrison Golden Goblin Football, and…oh, yeah, massively funny standup comic!…Sam Adams!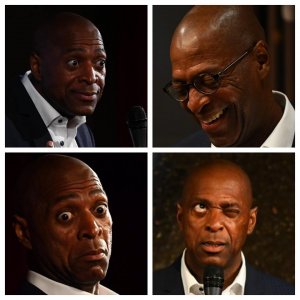 Sam amazed a lot of people with his first trip to Harrison…friends and media members for one reason, but the Lyric audience for a completely different one! Outsiders 'warned him' about Harrison, but they didn't know to warn him about the Lyric…and from the moment he stepped on stage it was obvious to everyone that he had found a new 'second home'! When Sam got back to his previously-adopted hometown of Denver, he thought about how best to share his experience in Harrison and, as one might expect, he did so at Comedy Works in Denver. People found his new "not scared…but concerned" routine as hilarious as the Lyric crowd did. There was something more, though: as with his "True Color" routine that brought him to our attention (and, now, about 30 million other people's!), in the middle of their laughter, people were touched.
One of those who were touched by the new addition to Sam's repertoire was Ann Macari Healey, who owns (with her husband) about 20 community newspapers throughout the Denver metro area and who set about researching to write a story about Sam…and us in Harrison! Another was Jeff Kingery, a former play-by-play man for the Denver Nuggets and Rockies who had been making films since high school and had now also accumulated years of experience as a sports and news documentary filmmaker. The morning after seeing Sam's show in January, he got in touch with Sam and said, "I was absolutely captivated last night and I've got to tell your story." (We had hoped that the film would be in production by Sam's return to Harrison, but fundraising for the high-quality and culturally-important documentary that is envisioned will take some time.)
Don't know Sam? Smooth. Clever. Hilarious. These words are used often to describe Sam Adams on stage. His energetic, comically-insightful act is 100 percent profanity-free and filled with observations about every-day encounters. Sam is a headline performer, and also has shared stages with national-touring comedians and music recording artists.
In 2009 Sam entered the Great American Comedy Festival held annually in Johnny Carson's childhood hometown of Norfolk, Nebraska. Sam left the festival as its most unique winner still to this date. Entered in the festival initially as an amateur, Sam won that competition. Later he was asked to compete with the professionals after one of the entrants fell ill. In a field of experienced comedians with national comedy club tours and late-night TV show appearances on their resumes, Sam took second place. It was an impetus for him to pursue a professional career in stand-up comedy.
Sam has been described by many in the entertainment field as a Renaissance Man. In addition to performing comedy on stage, Sam also is booked as a Keynote Speaker for his motivational "Laughter Is Good Business" presentation, where he brings comedy and business to an intersection by showing 'How To Spell Success With The Letter P.' Sam also has served as Master of Ceremonies for numerous high-profile events and has appeared in several TV commercial ads seen nationally.
Sam's an author, too, with a book titled If You Don't Believe Me: Lessons Learned from Listening To The Greats. In the book, Pro Football Hall of Famer John Elway offered the following tribute: "Through the ups and downs of an NFL career, I developed great trust, respect and appreciation for him. Blending an uncanny ability to mix humor with keen insight and knowledge, Sam is a one-of-a-kind storyteller."
Off the record, Sam has nearly 25 years of experience as a newspaper sports journalist. His work, as a staff writer and columnist, has appeared in The Denver Post, Rocky Mountain News and The Charlotte Observer. In 2003 Sam received the Print Journalist of the Year award from his peers in Colorado. He also is credited with television appearances on ESPN, Fox Sports, CBS and NFL Network, and has covered championship events at all levels — most notably four Super Bowls, two Olympiads, two NCAA men's basketball Final Fours, one Stanley Cup Finals and one World Series. In 2014 Denver's NBC affiliate KUSA-9NEWS added Sam as a regular contributor to its sports programming, with weekly appearances on the station's Sports A to Z and Broncos Game Day Live shows.
There were two stars on the night…….Host Sam Adams….not the beer guy…..who was hysterical in a PG way that reminded us of Bill Cosby. They should have let him do the whole two hours. The other big winner was the funnel cake fries which were sweet and delicious and served in a big basket. Sam Adams, in my opinion, is a spectacular talent waiting to be discovered on a national stage. If you see him on the list of performers, you should go. — Review of Comedy Works of Denver
Sam has appeared with the likes of Daniel Tosh, Mike Epps, Jake Johannsen, Wendy Liebman, Greg Warren, and Frank Caliendo, as well as opening for musicians and bands like The Guess Who, Three Dog Night, Al Jarreau, Air Supply, Al Stewart, and Starship. A world class entertainer—and a classy guy in general—the Ozark Arts Council is thankful for the sponsorship of Jeff Crocket Properties that allowed us to bring Sam Adams to the Lyric stage for the affordable price of just $15 per ticket, which has given us the courage to bring him back at the same price, because we believe that the theater will be completely full this time around!
Comedian Sam Adams #LiveAtTheLyric Saturday, September 7, 2019 at 7:00. Tickets are available on our ticketing page, by visiting the OAC office at 115 W. Rush Ave. (just to the left of the Lyric doors) or by calling (870) 391-3504; $15 in advance, $18 at the door.