The Theatre Company of the Ozarks and
the Ozark Arts Council Present a
World Premiere Adaptation of
Jane Austen's Classic Novel:
Pride and Prejudice
Thursday-Saturday, September 2–4, 7:00PM
Sunday, September 5, 2:00PM
The Theatre Company of the Ozarks and The Ozark Arts Council, will present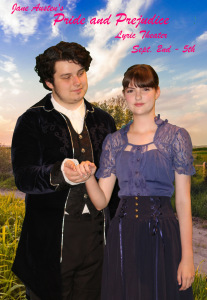 Pride and Prejudice #LiveAtTheLyric the first weekend of September, 2021 (September 2–5). Tickets are available through TheLyric.org with Advance Tickets priced at $8 children, $10 seniors, $12 adults. Ticket prices at the door will be $11 children, $13 seniors, $15 adults.
In the rural countryside of England live Mr. Bennet (Michael Amburn) and Mrs. Bennet (Elizabeth Lambert)—who is fixed on her 5 daughters getting married off quickly (and preferably to rich men!). Fortunately, a man of great wealth, Mr. Bingley (Jude Bilbee), has just moved to the neighborhood, and has set his sight on their eldest daughter, Jane (Bri Coleman). Unfortunately, he has brought along his arrogant friend, Mr. Darcy (Caleb Lord), who insults not only the Bennetts, whom he sees as far beneath him, but their second eldest, Elizabeth (Brinkley Brewer), initiating Elizabeth's hatred for the prideful man. If Mr. Darcy's attitude weren't enough, Elizabeth meets many more people who add fuel to the flames in her heart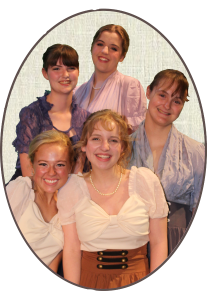 toward him—such as Mr. Wickham (Joe Claus), who has known Mr. Darcy since infancy and is more than happy to enlighten Elizabeth with tales of his past.
As with any adaptation of a book to a live performance—and our season is full of them this year!—we suggest a (re-)reading of the book both before and after the performance. We suggest this because it both prolongs the entertainment and makes the experience more enriching. By reading the book before and after, you are able to engage your own imagination of the characters and scenery, etc., or even of the nuances of the plot, then gain insight into the playwright's imagination of the same, and then deepen and broaden your own imagination through the post-performance reading. You may agree or disagree with any playwright's choices in an adaptation…and, maybe, if you disagree enough, another playwright will have been created!
To read Jane Austen's novel, visit the Boone County Public Library or a library near you…or buy it online. If print size can cause you difficulty, a large print, unabridged hardback is linked in the image to the right, below, and a version to read on tablets is available for under a dollar and is linked in the image on the left! If you follow our links to buy the book, you'll notice that where 'www' normally is, it says 'smile', which means you can designate the OAC/Lyric to receive a portion of what you pay for the book (it won't increase your price or take money away from creators or producers of a product, but comes out of Amazon's profit).
This play is a world premiere, adapted by the director, Michele Reynolds, from Jane Austen's classic novel to bring out more of the nuances of the book—both the comedic elements and the reasons behind some of the animosity between characters—and includes a large and talented ensemble, including Andrew Jackson, Addie Jones, Ella Domino, Faith Nix, Chasity Price, Rilee Young, Preston Garrison, Candace Lambert, Tracy Elledge, Cassandra Elledge, Emily Perkins, Alexis Poor, Caden Lambert, AJ Womack, Julie Sooter, Lily Aronson, Owen Elledge, Vive Allen, Jimmy Elledge, Laura Bracken, Lenora Domino, Emily Still.
Join us at The Lyric for a literary classic brought to life! Tickets for Pride and Prejudice, September 2–5 #LiveAtTheLyric, are available now here at TheLyric.org by clicking any "Get Tickets" link, or calling the OAC office at (870) 391-3504 (please leave a detailed message if you get our voicemail).