The Ozark Arts Council proudly presents
the first-ever entirely student-driven
production by HHS Theatre at the Lyric:
🌲 

Tuck Everlasting  ❤️
Thursday–Saturday, Sept. 30–Oct. 2, 6:00PM
Saturday, October 3, 1:00PM
HHS•Theatre@TheLyric and The Ozark Arts Council will bring a beloved book to the Lyric stage with a most intriguing cast and crew: Mrs. Hamblin is turning her veteran youth loose on the community to treat us to all of the energy—and all of the angst—that Tuck Everlasting deserves, with Harrison High School's first student-led (from director to actors to tech!) production. Performed #LiveAtTheLyric September 30–October 2 (with two performances on Saturday), tickets are available through The Lyric's ticketing page with Advance Tickets priced at $8 children, $10 seniors, $12 adults. Ticket prices at the door will be $11 children, $13 seniors, $15 adults. Face coverings for disease transmission are no longer required by the state, but no one will object if you still wish to wear one.
10-year-old Winnie Foster, trapped by the rules imposed by her strait-laced family, runs away and discovers the humble Tucks who had accidentally stumbled upon a spring long ago that gave them eternal life. Winnie promises to keep their dangerous secret but then a sinister stranger in a yellow suit arrives at their door with intentions to steal the immortal water for himself. Ultimately Winnie must choose whether or not to drink the immortal water and join them in an everlasting adventure—or live on in a natural way, living a life full of the ordinary beauty of growth and change.
Directed by Khloe Shorb, the 
Tuck Everlasting
cast includes:
Winnie Foster: Faith Nix
Angus Tuck: Zach Jimerson
Mae Tuck: Mysteri Cotton
Jesse Tuck: Tori Hudson
Miles Tuck: Joe Claus
Stranger: Jude Bilbee
Constable: Charlie Knieff
Granny Foster: Sara Sims
Voices: Kaci Flower, Donovan Walters, Mandy Prpich, Rilee Young, Jenna Wilson, Addie Jones
Join us at The Lyric for Tuck Everlasting! Tickets are available now here at TheLyric.org by clicking any "Get Tickets" link or by calling (870) 391-3504 (please leave a detailed message if you get our voicemail).
Get your tickets now, but keep checking back here for updates from the director, cast, and crew!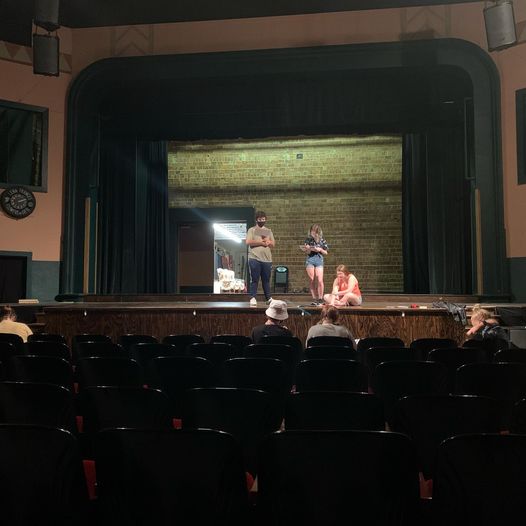 The cast and crew were so excited to have the Lyric open after nine months being dark that they had their read-through already in May!