Northark Drama and the
Ozark Arts Council
present:
The Outsiders
Tuesday–Saturday, December 3–7, 7:00PM
and Sunday, December 8, 2:00PM
with School Matinees Monday & Tuesday, December 2 & 3 at 10:00AM
The Ozark Arts Council and NorthArk Drama present The Outsiders #LiveAtTheLyric Theater in Harrison, Arkansas, December 2–8. Tuesday through Saturday will feature evening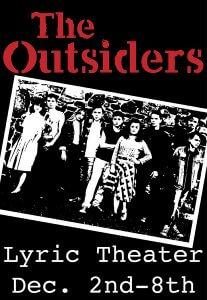 performances, which start at 7:00pm, and Sunday's performance will begin at 2:00pm. Monday and Tuesday will feature matinee performances for area schools (and homeschools). Tickets for the evenings and Sunday are available through TheLyric.org with Advance Tickets priced at $8 children, $10 seniors, $12 adults. Ticket prices at the door will be $11 children, $13 seniors, $15 adults.
Matinee tickets must be purchased through the OAC office; please call (870) 391-3504 and leave a message and send an email to our Executive Director.
In the midst of urban warfare, somehow Ponyboy (Karson Deatherage) can't forget a short poem that speaks of the teens' fragile young lives:
Nature's first green is gold,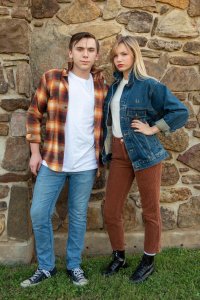 Her hardest hue to hold.
Her early leaf's a flower;
But only so an hour.
Then leaf subsides to leaf.
So Eden sank to grief,
so dawn goes down to day.
Nothing gold can stay.
"Robert Frost wrote it," Ponyboy tells Johnny (Wyatt Mahoney/US Ella Domino). "I always remembered it because I never quite got what he meant by it."
Cherry (Chyler Caraway/US Lena Rocole), a beautiful Soc, comes to share a special sensitivity with Ponyboy as she discovers that he remembers poems and needs to watch sunsets. At the same time, Cherry is attracted to the older, tougher Dallas (Gavin Wilson/US Isaac Stevens), and in a sense she's caught in the violent space between the Greasers (Darry: Andrew Coble/US Daniel Seay; Two-Bit: Laine Hilliard; Sodapop: Nathan Edwards/US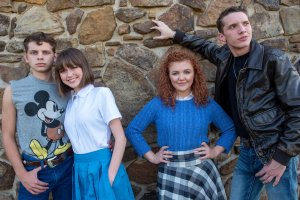 Nicholas Allen) and the Socs (Marcia: GiGi Crenshaw/US Jennafer Wilson; Sandy: Eden Wilson/US Faith Nix). While the Socs appear to have everything, the only thing a Greaser has is his friends.
As these young people try to find themselves and each other, as the sadness of sophistication begins to reach them and their battles and relationships reach a resolution, Ponyboy's friend, Johnny, sends him a message: "I've been thinking about the poem that guy wrote. He meant you're gold when you're a kid, like green. When you're a kid everything's new, dawn. It's just when you get used to everything that it's day. Like the way you dig sunsets, Pony. That's gold. Keep it that way. It's a good way to be."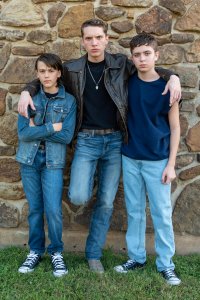 This is a play about young people who are not yet hopeless, about latent decency in the midst of struggle.
Both veteran and novice actors round out this stellar cast, including: Devin O'Brien and US Caleb Lord as Bob/Paul; Kinder Hinrichs and US Daniel Hart as Randy; Joshua Mann as Jerry; Kaleigh Billings as Mrs. O'Bryant; Abi Coble as the Doctor; Lexi Knight as the Nurse; Lexi Sprenger as Mrs. Syme; Laken Steiner, Kaci Flower, Laken Rudelis, Bannon Jones, Zoe Arthur, Brinkley Brewer, Donovan Walters, Sophia Wilson, Callie Caraway, Wynn Mahoney, Lenora Domino, Zachary Linn, Emma Pruitt, Ivan Hanschu, Xavier Hanschu, Kalysta Douglas as Ensemble.
This a story that you won't soon forget.
Says Co-Director and Head of NorthArk Drama, Michael Mahoney:
"I have truly enjoyed working with the cast, crew, and especially my co-director Bekah Wilson on [this play]. Finding a vision and through line for these characters has been a challenging, yet rewarding task. S.E. Hinton's novel is timeless in the powerful and enlightening story about the hard battles fought during adolescence, the search for true belonging to a family, brotherhood, and, most of all, love. The Outsiders is an extremely dramatic piece. I believe it conveys a powerful message about real social issues that arise in so many American homes and social groups today. I hope our production enlightens and educates people about human compassion and love." 
The Outsiders will be performed December 3–7 at 7:00PM and December 8 at 2:00PM, with 2 special school-only performances December 2 and 3 at 10:00AM.
(If your school has not been contacted about these special school performances, contact Executive Director, Julianna Hamblin by clicking this link to email her and leaving a message at (870) 391-3504 [in case your email ends up in a spam folder].)
Note: US denotes Understudy