The Theatre Company of the Ozarks and the Ozark Arts Council Present:
Dracula
Thursday–Saturday, October 24–26, 7:00PM Sunday, October 27, 2:00PM
Thursday, October 31, 7:00PM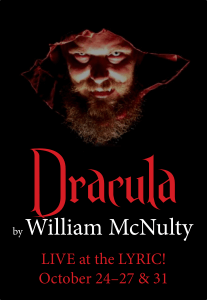 The Theatre Company of the Ozarks and The Ozark Arts Council, under license from Playscripts, Inc., will present Dracula, as adapted from Bram Stoker's novel by William McNulty in the 1920s,  #LiveAtTheLyric the last weekend of October (Thursday–Sunday, October 24–27) and on Halloween! Tickets are available through TheLyric.org with Advance Tickets priced at $8 children, $10 seniors, $12 adults. Ticket prices at the door will be $11 children, $13 seniors, $15 adults.
(Parents: you know your children and if you don't know the story, please check your usual parental advisory sources to see whether the content of this play will be appropriate for your child.)
Trouble is brewing from the very first moment of William McNulty's adaptation of Dracula. Dr. Abram Van Helsing has arrived at the estate of his old friend, Dr. Seward, who is desperate for help. Seward's beloved Mina has recently died of a sudden and mysterious illness. Her horrific symptoms have proved baffling to the bereaved doctor: sudden loss of blood, bouts of sleepwalking in the cemetery, and strange puncture wounds on the neck. To make matters worse, Mina's friend, Lucy, has begun to display the same symptoms! Seward hopes that Van Helsing, a noted expert in exotic medicine, will be able to uncover the cause of Lucy's illness and save her before it's too late.
Meanwhile, Count Dracula, a strange and imposing man from Transylvania, has taken up residence in nearby Carfax Abbey. And Lucy's fiancé, Jonathan Harker, has mysteriously vanished. A solicitor who helped arrange the sale of the Abbey, Harker traveled to Transylvania a few months ago to finalize business matters with the Count…and never returned home.
At Seward's estate, Renfield, a mental patient, is becoming more wild and unruly by the day, almost as though he were possessed. Lucy's symptoms continue to grow worse. And what could be causing the sudden onslaught of howls coming by night from up the hill?
Van Helsing believes the problem they face is a grave one: "My diagnosis is there is no disease! The symptoms are real. But the cause is not internal." Could it be that Mina, and now Lucy, have suffered at the hands of a vampire? To save Lucy's life, Van Helsing and Dr. Seward will have to uncover the identity of the life-sucking demon, and destroy him. But the endeavor is a dangerous one.
A vampire is a fearsome enemy, and the risks are greater than death. Should the doctors perish in their pursuit, they too will become vampires, doomed to spend eternity preying upon the bodies and souls of those they once dearly loved. Will Seward and Van Helsing find the vampire and save Lucy's life—or is the monster about to claim yet another victim?
Join us at The Lyric for this heartwarming tale of the transformative power of love on October 24–27 & 31. Tickets for Dracula are available now here at TheLyric.org by clicking any "Get Tickets" link, by stopping by the OAC office at 115 W. Rush Ave. between 9 & 1 Tuesday through Friday, or by calling (870) 391-3504 (please leave a detailed message if you get our voicemail).