Rough Winter?
The Mother of Ozark Gospel Blues is Bringing the Cure:

Brick Fields is Coming to the Lyric!


Friday, April 5 at 7:00PM

If the 'official' end of winter on March 20 finds you not quite recovered from it all, join us at 'The Roots Music Palace of the Ozarks' on April 5 at 7:00, because Brick Fields is coming to provide you with the Blues Therapy you need to have a healthy outlook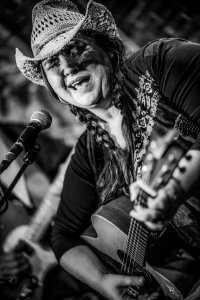 for Spring—and the rest of the year! "An unleashed cleansing of the soul" is how the Nashville Blues Society described Brick Fields' music, and the New Classic Music of Tomorrow music review blog makes it clear why: "Brick Fields is by far the most soulful artist I've heard in years!" 
Brick Fields is an Arkansas original musical group fronted by the ambrosial voice of Rachel Fields. With her husband, Larry Brick, who has spent over 40 years in the music business as a guitar player and songwriter (and was a worship leader during the California Calvary movement of the 1970s), there is a 'two talents expressing one flesh' vibe throughout the music—a unity of purpose in music and vocals that is neither forced nor self-conscious, but just is. Rachel cut her musical teeth first in the Arkansas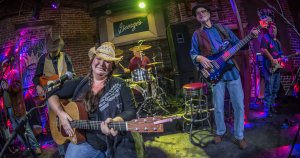 River valley, by way of her Uncle Mike "Burger" Scoggins, then in the jam band circuit touring in the late '90s east and west coast festivals, opening for acts like Government Mule and later singing on a tour with the Jerry Garcia Band. Together, they bring a true Americana Soul feel—weaving Folk, Gospel, and Blues together in such a way that former Buffalo River Concert Association president Rick Hinterheuer told Rachel, "You're going to have a good time playing at the Lyric!"…because Rick knows what we like!
Brick Fields' current core band is a treasure of solid creativity including Ben Sass, Kevin Bonner, Hoobie Daniels, and Chris Parker.
Ben Sass of Jerusalem, Israel is the vibrant enthusiastic steed on and off stage, possibly one of the world's finest up-and-coming harmonica players on the scene.
Kevin Bonner is from Northwest Arkansas and honed his drumming chops in the Cate Bro's garage; he has been the backbone for numerous of NWA's most loved bands.
Bass player, Hoobie Daniels, of Southern Mississippi (via Austin Texas), joined Brick Fields in 2016 after retiring to the Ozark Mountains where he is continuing his musical journey.
Chris Parker adds his Tulsa guitar stylings with influences that largely play themselves out between Chet Atkins and BB King.
Comfortable with themselves and numerous surprise guests, it's not unusual at a Brick Fields show for the night to end with a few or as many as 20 players on stage. As musicians' musicians, Brick Fields has been called a magnet for other musicians and music lovers alike.  Ever evolving, this couple's original music can charm venues in an intimate relaxed setting with the acoustic duo telling stories of musical roots or bring a full-on band experience that brings the house to its feet.
The Ozark Arts Council is pleased to welcome Brick Fields to The Roots Music Palace of the Ozarks, Harrison's historic Lyric Theater, on Friday, April 5 at 7:00. Tickets are just $10 in advance, but $15 at the door; just click any of the 'Get Tickets' links here on our website and you'll be taken to our ticketing page, or call Jules or Dill at (870) 391-3504 or visit Dill at the OAC office M-W-F 8:00–2:00 (or Jules by appointment).