Put the Pedal to the Metal and Keep on Rockin' with
Leadfoot 65!


Saturday, March 30 at 7:30PM

Join us on March 30 at 7:30, as Leadfoot 65 speeds onto the Lyric stage! If you heard them at last Summer's Battle of the Bands or elsewhere, you know that they waste no time in getting your adrenalin flowing and keep it building throughout their set with both riffs and lyrics so solid that you not only can taste the music in the theater's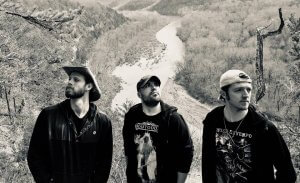 rarefied air, but chew on it all the way home and through the weekend. As the title track from their just-released second album says, there is "More than Meets the Eye" in the rock from Tomahawk!
Sean Bing's vocals are a good match for his guitar playing. Even in something as 'pretty' as the introduction to "Black Smoke Rollin'" (and later, in the melodic solo), there is an edge and you know that at any moment it could become all edge; Sean can actually both sing and growl — with both instruments —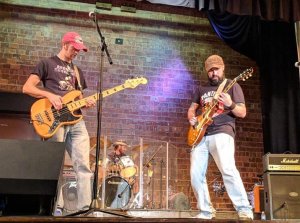 and he knows when to do each (or both) for best effect. At the same time, Skip Reed's drum work and Nathan Popejoy's bass are singing their own deep and steady song for Sean to play off of. This is a great rhythm section and a guitarist that has a feel for how to keep attached to what they're playing, not just go off and show off his chops in some barely-related way. If you like rock music that puts the emphasis on both the music and the rock, you will love Leadfoot 65.
Leadfoot 65's two albums reveal a band that is bringing in what we might call 'The New Mainstream of Southern Rock'. That is, they display a broad set of roots and influences that include the same background as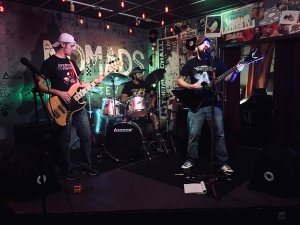 the earlier wave of Southern rockers, plus all the music that has come since then. They move easily from a Molly Hatchet-like sound to one that is clearly akin to Pantera, without ever falling into the sometime-muddiness of Dixie Witch. Southern Rock with a power groove and the soloing sensibilities of melodic and neo-classical metal without losing the focus of the main musical and lyrical intent; Leadfoot 65 is clearly 'coming of age' and not to be missed.
The Ozark Arts Council is pleased to welcome Leadfoot 65 back to the historic Lyric Theater on Saturday, March 30 at 7:30. Tickets are just $5 in advance, but $10 at the door; just click any of the 'Get Tickets' links here on our website and you'll be taken to our ticketing page, or call Jules or Dill at (870) 391-3504 or visit Dill at the OAC office M-W-F 8:00–2:00 (or Jules by appointment).