Auditions!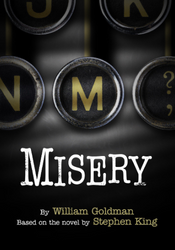 The Theatre Co. of the Ozarks will have auditions for Misery, by William Goldman, based on the novel by Stephen King on Sunday August 27 at 4pm and Monday August 28, 2023 at 6:30pm at the Lyric Theater. For more questions, please click to email us or call 870-391-3504.
The Requirements
Doors will open at 3:30pm on Sunday and 6:00pm on Monday. Only those auditioning may be present.
Auditions will consist of sides from the script, chosen by the director.
Ages 18 and up.
The Story
Misery is by William Goldman, based on the novel by Stephen King. Cast is 2 men, 1 woman.
Show dates: October 5-7, 2023 at 7:00pm and October 8, 2023 at 2:00pm at the 1929 Historic Lyric Theater.
Misery follows successful romance novelist Paul Sheldon, who is rescued from a car crash by his "number one fan," Annie Wilkes, and wakes up captive in her secluded home. While Paul is convalescing, Annie reads his latest book and becomes enraged when she discovers the author has killed off her favorite character, Misery Chastain. Annie forces Paul to write a new Misery novel, and he quickly realizes Annie has no intention of letting him go anywhere. The irate Annie has Paul writing as if his life depends on it, and it does.
Thank you for supporting the Arts and good luck!