Auditions!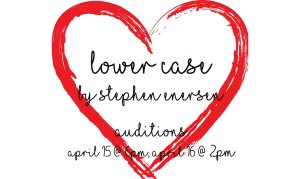 The Theatre Co. of the Ozarks will have auditions for lower case, by Stephen Enersen on Saturday April 15 at 6pm and Sunday April 16, 2023 at 2:00pm at the Lyric Theater. For more questions, please click to email us or call 870-391-3504.
The Requirements
Doors will open at 5:30pm on Saturday and 1:30pm on Sunday. Only those auditioning may be present.
Auditions will consist of sides from the script, chosen by the director.
Ages 18 and up.
The Story
lower case is by Stephen Enersen. Cast is 2 men, 2 women.
Show dates: June 22-24, 2023 at 7:00pm and June 25, 2023 at 2:00pm at the 1929 Historic Lyric Theater.
This smart romantic comedy wrestles with the miseries of the mid-life, recycled dating scene. Having recently decided that he is through with romantic relationships (though not through with women), George has made an impulsive bet with his meddling sister that he will solve all his dating problems by "hiring" a mistress. Now, just two days before the "show and tell" dinner where he must produce said mistress to avoid losing the high-stakes bet, a mistress-less (and clueless) George tries to engage a 30-something theatre student to play his paramour for the dinner. A contentious though talented Meredith finds the assignment disgusting but needs the money and, truth be told, is excited by the acting challenge of a full evening of improvisation. While the antagonistic couple is attempting to fashion a convincing backstory for the dinner charade, sister Betsy suddenly appears, throwing Meredith and George into a frantic, ill-prepared improv a full day early. Amidst the chaos, Meredith and George gradually come to appreciate each other's odd yet strangely sensible takes on life and relationships.
Thank you for supporting the Arts and good luck!