Lyric Classic Sci-Fi Films presents
Attack of the Giant Leeches!
Sunday, April 7 at 6:00PM
Join us at 6:00 (note the new time!) as Attack of the Giant Leeches comes to the Lyric's big screen! A backwoods game warden and a local doctor discover that giant leeches are responsible for disappearances and deaths in a local swamp, but the local police don't believe them.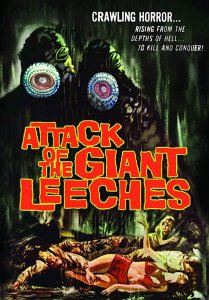 Written by one of the toughest heavies ever to appear on the big screen (known especially for Riot in Cell Block 11, filmed at Folsom Prison, where the warden remembered him from his stint at San Quentin), Leo Gordon, and directed by Bernard Kowalski (later the executive producer of Baretta and director of several episodes of Mission: Impossible, of which he was co-owner), the film comes from the nation's and the industry's contemplation of the Cold War and what the fallout might be from what recent science had wrought.
Lyric Theater Classic Sci-Fi and Horror Films will be presenting a curated collection spanning the history of filmmaking in coming months, all for 20th-century ticket prices: just $5 for adults and $2 for children.
Just $5 for adults and $2 for children!
There will be an opportunity, too, to discuss these classic films in terms of themes, etc., as well as the evolution of the filmmaking process, for those who would like to participate.
By starting with this price and some royalty-free films, we hope to put aside enough money to make it possible to keep these same ticket prices when we license more recent films or more costly classics…so your hopping on board now and making this a part of your monthly schedule will help us to offer more in the future and, perhaps, to expand to other genres on other evenings!
Because we want to offer this low ticket price, we cannot offer online ticketing for these films. Payment at the box office can be made by cash or debit/credit card and we will open the box office approximately 45 minutes before the 6:00 showtime. Both cash and debit/credit cards are acceptable for concessions, as well.
The Ozark Arts Council is pleased to bring you this new film series and hopes to expand our offerings based on Member and audience reaction. Tickets are just $5 for adults and $2 for children, with all tickets purchased at the door. For more information call Dill at the OAC office, (870) 391-3504, and leave your phone number or email address so that Michael Amburn, coordinator of this project, can get in touch with you.