Live streaming concert with Chris Dees TONIGHT (May 1) at 7:00pm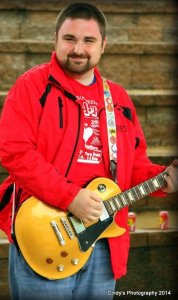 We know you're stuck at home and trying to find anything to keep you occupied. Fortunately, so are we! Until we can get back to our normal schedule, bringing you Nunsense II and the "Rock the Word" concert, our job is still to bring our area quality entertainment; and, to that end, we will stream our first live concert, to the comfort of your own house, featuring local artist, Chris Dees! Join us Friday, May 1 at 7:00pm at the OAC's Facebook page to hear Christopher Dees's smooth vocals and rockin' chords. <–Click for the link!
It is a free concert, but there will be a link for your donations, should you so wish. <–Click for the link!
ALL donations will go to keeping the Lyric Theater open for many years to come!
You can feel even closer to us and stop by from 6:00-8:00pm for some to-go nachos, hot dog, beer, or wine!
Chris Dees is a talented and accomplished local guitarist, with a mixed style from rock to blues to pop. He has been involved with Fever Blue and headed up Dees & Friends. He was also lead guitar in the Ozark Arts Council/NorthArk Drama productions Footloose and Grease! Chris will be taking requests through the evening.
Thank you for supporting the Arts and please be safe and healthy.